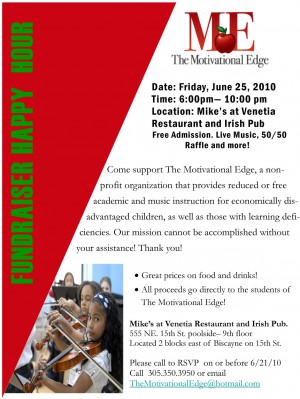 The Motivational Edge is holding a happy hour on June 25th, 6pm-10pm
at Mikes Restaurant and Irish Pub.
Mike's at Venetia Restaurant and Irish Pub.
555 NE. 15th St. poolside– 9th floor
Located 2 blocks east of Biscayne on 15th St.
Come take part in a fun-filled evening to raise funds for the students of The Motivational Edge.
– FREE Admission!
– 50/50 raffle and exciting giveaways throughout the evening!
– Live music and great prices on food and drinks!
– All proceeds go directly to the students of The Motivational Edge!
Please RSVP by 6/21/10 by writing to us at TheMotivationalEdge@hotmail.com or call us at 305.350.3950
Come support The Motivational Edge, a non-profit organization that provides reduced or free academic and music instruction for economically disadvantaged children, as well as those with learning deficiencies. Our mission cannot be accomplished without your assistance! Thank you!
Video of Ian Welsch, Founder and CEO, and Dr. Jay B. Hess, COO of The Motivational Edge being interviewed during Autism Awareness Month for Comcast Newsmakers.