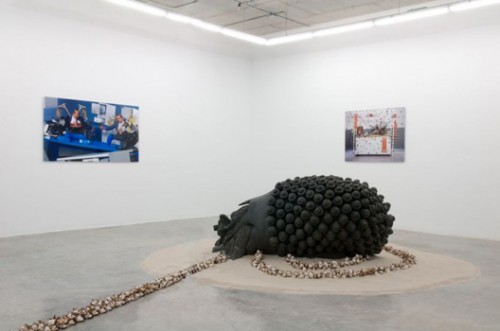 Charest-Weinberg Gallery is pleased to present SUNTEK CHUNG: 10 YEARS, opening March 13 through May 22. This exhibition will be the artist's Miami debut.
OPENING RECEPTION
March 13th, from 7pm – 10pm at 250 NW 23rd Street, Space 408
charestweinberg.com | 305- 292-0411
Art in America review
SunTek Chung's elaborately staged photographs are brilliant send-ups of cultural cliches, with a bitingly satirical edge. Populated by a variety of classic Asian and American stereotypes, his scenarios break open such contrived depictions by synthesizing numerous eastern and western social signifiers to demonstrate that stereotypes, whatever form they come in, may just as easily apply to one culture as to another.
Chung himself plays the role of protagonist in these fictitious tableaux that fall somewhere between Cindy Sherman's objectifying film stills and David LaChapelle's outrageously baroque staged photographs. By dramatically changing his appearance and demeanor in every role, he becomes the perfect foil for canned notions of nationalistic homogeneity and requisite expectations of masculinity.
In his earlier images, Chung confronts generic depictions of martial arts heroes by presenting a side of these characters rarely seen. While a stealthy ninja daydreams of a life filled with love (not unlike the kind offered in the romance novel he clutches in his hand), a kung-fu master turns fierce cricket player, striking a pose under a Shinto archway papered in Burberry plaid.
Elsewhere, American stereotypes are turned on their head in photographs of a beer-blunted redneck from the "Dirty South" celebrating the rise of another South (that of South Korea), and a lawn-obsessed suburbanite who tames his rice paddy plots with an extravagant array of gardening tools. The word assimilation takes on a whole new meaning after viewing Chung's alternate versions of the quintessential Asian-American male.
In his most recent images, Chung turns to pop-cultural themes—both high and low, past and present—for inspiration, inviting other characters to play along. Huck Finn and Jim are cross- referenced with Bruce Lee and Kareem Abdul-Jabbar as they steer their raft towards a better world, freed from the cultural detritus and social myopia that previously weighed them down. Similarly, Daedalus and Icarus, clad in Chinese silk hot pants, their wings constructed from an assortment of defunct electrical fans, are caught in a fall from grace that is both physical and metaphorical.
As humorous as they may be, a closer look at Chung's images reveals the unsettling presence of a man hiding in plain sight—the artist himself—whose identity games offer up a searing critique of historically received wisdoms that sadly persist even to this day. His rogues gallery of affected poses, then, which range from the "bob and weave" to the "duck for cover," to the signature dynamism of his spring-loaded "jack-in the box," whose confrontational gaze is unavoidable, ultimately arise from his own day to day survival strategies. A rare instance, one might say, of the perfect fusion between the personal and the political.
Whether critique or homage, over-the-top burlesque or restrained meditation, Chung's entire body of work over the past ten years ultimately reveals deeply entrenched processes of social normalization and ideological control. Processes, it's worth noting, that we all find ourselves complicit in at one time or another, both unwittingly and otherwise.