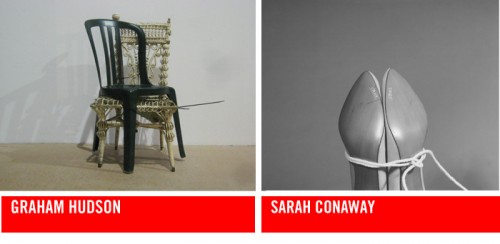 MARCH 12 – APRIL 3, 2010
SECOND SATURDAY / SAT, MARCH 13 11AM-9PM
Sarah Conaway and Graham Hudson both employ the use of quotidian materials to create beauty. A translation of style and aesthetics, relativity and perspective, their work highlights the formal qualities of the mundane in a richly historical exploration of the formal. Examining Hudson and Conaway together affords the viewer an extensive discovery in the use of line, form, and shadow: for Conaway through the documentation of temporary sculptural constructions, and for Hudson through the de-construction and then manipulation of functional objects.
The exhibition at Gallery Diet will bring together a series of eight black and white photographs by Conaway including Bound To Fail, The Ship, and Sunrise with a selection of sculpture from Graham Hudson's re-constructed chair series including Collapse Chair, Inverted Bar Stool, and Two Chairs.
Sarah Conaway lives in Los Angeles, California. After receiving her MFA in photography from the University of Illinois at Chicago in 2001 her work has been included in numerous exhibitions such as Artists in and Out of Hazard Park curated by Sterling Ruby at the Galerie Christian Nagel in Berlin, I am Eyebeam at Gallery 400 curated by Melanie Schiff and Lorelei Stuart in Chicago, and Sarah Conaway at Bellwether Gallery in New York.
Graham Hudson is based out of London and has exhibited extensively throughout the United States and Europe. Previous exhibitions in Miami include Design Miami 2009 and Locust Projects 2008, his work has also been featured in solo exhibitions at Monitor in Rome, Zinger Presents in Amsterdam and, Rokeby in London. Group exhibitions include From a Distance at Wallspace in New York, 6 of 1: Performance and Sculpture at The Camden Arts Center in London, and New Religious Art at The Liverpool Biennial .
Special thanks to The Hotel of South Beach, Florida for so generously hosting Ms. Conaway. www.thehotelofsouthbeach.com
Image Captions:
Sarah Conaway, Bound to Fail, 2009, C-print, 30″ x 40″
Graham Hudson, Two chairs, 2009, Timber, whicker, plastic, 35.5″ x 25.5″ x 24″
About Gallery Diet: Diet represents five emerging and mid-career artists, Brian Burkhardt, Charley Friedman, Richard Höglund, Abby Manock, and Daniel Milewski. Their work is exhibited alongside that of an invitational series of artists from around the world.