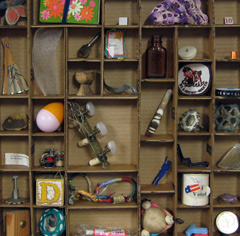 Kerry Phillips: Sometimes your things are my things
Oct. 10 – Nov. 8, 2009
Opening reception: Fri., Oct. 9, 6-9 pm
This latest installment of Phillips' ongoing project entitled things includes an installation of some of the things she has found and kept, along with a series of written things and a performance of some touristy things.
Click here for more information.
Image: Kerry Phillips, Things, installation detail.
Art and Culture Center of Hollywood
1650 Harrison St.
Hollywood, FL 33020
Thank you for using Soul Of Miami!