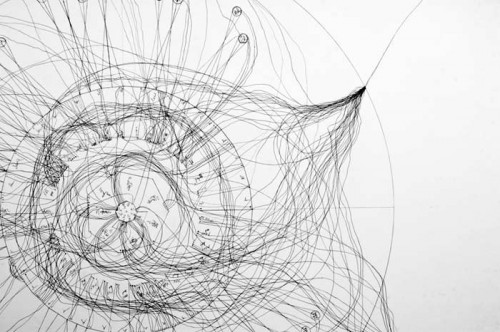 Cinq champs d'opération (i. de deo), 2009. Graphite on 185 g/m2 Arches satiné, 56 x 76 cm.
Richard H̦glund РFieldwork
October 10th – November 7th, 2009
Opening Reception October 10th , 2009 7 – 10 p.m.
Join us for Fieldwork, an exhibition by the Paris based artist, Richard Höglund. Richard will exhibit a body of work including video, sculpture, drawing, and sound — all pieces which were created in Miami over the past several months . The exhibition will open on October 10th, from 7- 10 p.m. and the artist will give a gallery tour on October 17th (please contact Diet for further details).
Höglund has exhibited work at the Lyon Biennial, The National Gallery in Bulgaria, was a finalist for the Jean Claude Reynal prize and is a recipient of the Prix Jeune Creation, Paris. This year Richard has been an artist in residence at the Samband Islenskra Myndlistarmanna in Reykjavík, Iceland, and in 2010 will exhibit and be on residence with the Villa Bernasconi in Geneva, Switzerland, where he is also creating a citywide project supported by the MAMCO (Museum of Modern and Contemporary Art), Geneva.
This will be Richard's second solo exhibition at Gallery Diet where he is represented.
About Diet: Located at 174 NW 23 Street in Miami, Florida Diet represents five emerging and mid-career artists. Diet's artist roster includes Brian Burkhardt, Charley Friedman, Richard Höglund, Abby Manock, and Daniel Milewski, whose work is exhibited alongside that of an invitational series of exhibitions by artists from around the world.