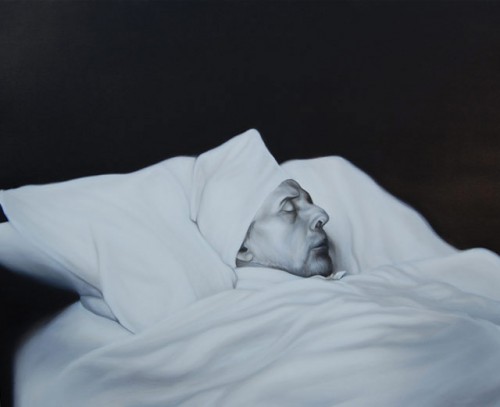 Charest-Weinberg Gallery presents Davis / Langlois
Into The Void: The Ballad of The Martyr as Told by Ingres
From Oct 7th through Nov 21st, 2009
Robert Davis and Michael Langlois. Resurrection (Jean Auguste Dominique Ingres). 2009. Oil on canvas. 40 x 50 inches
Opening reception: October 7th, 2009. 6:00 p.m.
Location: Charest-Weinberg Gallery. 250 NW 23rd Street. Space 408. Miami, FL 33127
Dates: From Oct 7th through Nov 21st, 2009
Admission: Free
"Let me hear no more of that absurd maxim: 'We need the new, we need to follow our century, everything changes, everything is changed.' Sophistry- all of that! Does nature change, do the light and air change, have the passions of the human heart changed since the time of Homer? 'We must follow our century': but suppose my century is wrong? Because my neighbor does evil, am I therefore obligated to do it also? Because virtue, as also beauty, can be misunderstood by you, have I in turn got to misunderstand it? Shall I be compelled to imitate you!"
Jean Auguste Dominique Ingres, c.1834
Charest-Weinberg Gallery presents the first Miami exhibition of artists Davis / Langlois, Into The Void: The Ballad of The Martyr as Told by Ingres, taking place October 7th through November 21st, 2009. This exhibition will showcase work fresh from their exhibition at the Museum of Contemporary Art Chicago (September 5th – 28th, 2009), as well as new pieces made specifically for their Miami debut. An opening reception will be held on Wednesday, October 7th from 6:00 to 9:00 p.m.
Davis / Langlois conceived Into the Void as a meta-fable narrated by a resurrected Jean Auguste Dominique Ingres. The story features Iman, a 15-year-old Palestinian-American, as she contemplates the plight of Suquamish leader Chief Seattle, who is forced to relinquish his sacred land to the tune of Black Sabbath and the howls of Soundgarden. In her quest for honor, Iman finds herself hanging on to every prophetic line. Through the tradition of martyrdom in Baroque and Neo-Classical painting, Davis / Langlois explore contemporary notions of assimilation, empire, xenophobia and environmentalism. The exhibition invokes the question 'what is honor, and what is honorable? What price does one pay for steadfast commitment and profound devotion?'
Rob Davis and Mike Langlois have been artistic collaborators since 1997 after meeting at the School of the Art Institute in Chicago. Redefining the conventional notion that paintings are made by a single artist or hand, each takes an equal role in developing ideas, choosing subjects and executing the works.
Known for their contemporary representational paintings, the duo constructs narratives, each painting acting as part of a larger story and by their proximity, forcing viewers to make a conceptual jump from image to image. With a vocabulary derived from popular culture and subcultures, the artists are committed to applying classical techniques to contemporary art. Their seemingly dissimilar installations center on themes ranging from desire, family, identity, martyrdom, utopia and politics.
About Charest-Weinberg Gallery
Charest-Weinberg Gallery, located in the heart of Miami's Wynwood district, has joined an elite core of Miami art venues, both private and institutional. With an international roster of artists, Charest-Weinberg mounts exhibitions of some of today's most renowned and influential emerging artists.
Charest-Weinberg Gallery
250 NW 23rd Street. Space 408
Miami, FL 33127
info@charest-weinberg.com
www.charest-weinberg.com
For more information about local openings and events, please visit www.miamiartguide.com