Aqua Art Miami 2014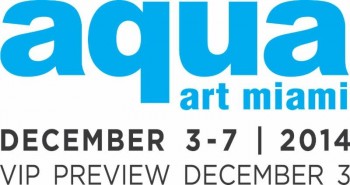 VIP Wednesday, December 3, 3 pm – 10 pm, Access for Aqua Art Miami VIP Cardholders, Art Miami & CONTEXT VIP Cardholders, and Press
Thursday, December 4, 12 pm – 9 pm
Friday, December 5, 11 am – 9 pm
Saturday, December 6, 11 am – 9 pm
Sunday, December 7, 11 am – 6 pm
Aqua Hotel
1530 Collins Avenue
Miami Beach, FL 33139
$15 One-day pass to Aqua
$75 Multi-day pass to Art Miami, CONTEXT, Aqua
$10 Students 12-18 years and Seniors
Free Children under 12 accompanied by adult
$10 Groups of 10 or more (per person)
www.aquaartmiami.com
Aqua Art Miami is pleased to announce its roster of confirmed exhibitors for Art Week, when the popular contemporary art fair runs Dec. 3 through Dec. 7, 2014. Long known as one of the top emerging art fairs during Miami Art Week, Aqua Art Miami is critically recognized for presenting vibrant and noteworthy international art programs showcasing emerging and mid-career artists.
Set within a classic Art Deco hotel on South Beach with spacious exhibition rooms that open onto a breezy, charming courtyard, the unique fair has become a favorite gathering spot during the busy week to acquire work, exchange ideas and discover new pieces by well-known artists as well as names new to the international art market. Under its new ownership by Art Miami LLC, Aqua 2013's VIP Preview opened with a line of collectors down Collins Avenue waiting to gain entrance – a first in the history of the fair – and closed on a high note with record breaking sales, outstanding press coverage, and overall attendance of more than 10,000 visitors, which doubled from previous years.
Aqua Art Miami's 2014 edition will feature 46 international exhibitors and a dynamic range of high-quality art that maintains the fair's signature unique atmosphere and energy, showcasing emerging and mid-career artists working in all media from painting, photography and works on paper to design, sculpture, installation, video and multimedia art. "Aqua's affiliation with Art Miami has clearly expanded the fair's ability to reach out to new galleries as well as collecting audiences," said Director Jennifer Jacobs. "Aqua's unique setting and increasingly refined environment transcends notions of the typical hotel fair, and we're incredibly excited for this edition, celebrating Aqua's 10th Anniversary and highlighting the fair's continuing curatorial evolution. We're welcoming back some of the established exhibitors that have defined the fair's success over the years along with fresh galleries new to the Miami art scene, together presenting an exciting roster of solo exhibitions and projects spanning visual art, multimedia, and performance."
For the first time in Aqua's history, exhibitors were selected through an Advisory Committee, comprised of Mat Gleason of Coagula Curatorial, Los Angeles, Nancy Toomey of Toomey Tourrell Fine Art, San Francisco, and Henry Chung and Robert Walden of Robert Henry Contemporary, Brooklyn, NY. Approximately half of the galleries who have contributed to Aqua's success over the years are returning for the 2014 edition, with a number of new participants traveling to the fair from the Americas, Asia and Europe, many exhibiting in Miami for the first time. Aqua will also debut a design exhibitor for the first time in its history, with Industry Gallery of Los Angeles/Washington DC transforming the hotel's penthouse; and as in years past, the online network and magazine ArtSlant will unveil the winners of a yearlong contest to select several artists from an international open call juried by a panel of art world luminaries.
In honor of the fair's 10th anniversary, Aqua will present innovative performance programs encouraging audience participation in the creative process. Highlights include: Coagula Curatorial presenting renowned performance artist Karen Finley, who will reprise her Artist Anonymous series of 'meetings' encouraging audiences to explore their relationship with art. This series originally premiered as part of the Museum of Art and Design's 2014 MAD Biennial; Elizabeth Leach Gallery will present MK Guth's Advice Station, part psychiatry office and part information booth. Here visitors can sit and talk about their experiences and offer their tips, pointers and opinions about the art fairs in Miami, to be included in a book that can be ordered and shipped after the fair. These projects will be enhanced by a number of pop-up installations and 'performance interruptions' curated throughout the week, enhancing the fair experience for Aqua visitors.
These facets will add to the unique and invigorating atmosphere that has made Aqua Art Miami's opening the annual destination on Wednesday of Art Week for influential collectors, connoisseurs and art professionals who migrate en masse from Art Basel Miami Beach's VIP Preview a short walk away. This exclusive first view starting at 3 PM encourages VIP Cardholders to explore the room displays until the festivities wind down at 10 PM, gaining insight from exhibitors and artists while seizing the opportunity to acquire work before the fair opens to the public at noon the following day.
The following galleries have been confirmed for participation at Aqua Art Miami 2014:
Antonio Colombo Milan | ARCO Gallery NYC | Artêria Montreal | ArtSlant Los Angeles | Autobody Fine Art Oakland | AWOL Toronto | Coagula Curatorial Los Angeles | Elisa Contemporary Art Riverdale, NY | Elizabeth Leach Gallery Portland | Ernest G Welch School of Art, Georgia State University Atlanta | Exhibit A Corning, NY | galerie juliane hundertmark Berlin | galerie 103 Kauai | Gallery 300 Santa Rosa, CA | Ghostprint Farmville, VA | Hamiltonian Gallery Washington, DC | Hang Art San Francisco | Imago Verbosa London | Industry Gallery Los Angeles / Washington, DC | j ferguson gallery Richmond, VA | John Wolf Fine Art Los Angeles | Kathryn Miriam Contemporary NYC | Matteawan Gallery Beacon, NY | Mayer Fine Art Norfolk, VA | Michelle Mariaud NYC | Mindy Solomon Gallery Miami | Morton Fine Art Washington DC | Muriel Guepin Gallery NYC | Pele Prints St. Louis | Perihelion Press Phoenix | Projects Gallery Miami | Red Pipe Gallery Los Angeles | Rice Polak Gallery Provincetown, MA | Robert Henry Contemporary Brooklyn, NY | Roza Azora Moscow | Sandra Lee Gallery San Francisco | Seager Gray Gallery Mill Valley, CA | Shulamit Gallery Los Angeles | Space 776 Brooklyn, NY | The Good Luck Gallery Los Angeles | Thinkspace Gallery Culver City, CA | Toomey Tourell Gallery San Francisco | Victori Contemporary NYC | Whitespace Atlanta | William Bazcek Fine Arts Northampton, MA