Dezer Schauhaulle presents Ich Bin Ein Berliner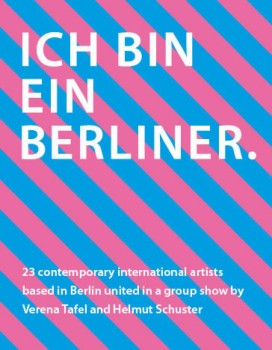 November 29th, 2011:
Preview Opening: 8pm – 9pm / Opening Reception: 9pm – 11pm
Dezer Schauhalle Miami
2000 NE 146th St
North Miami, FL
Exhibition: Ich Bin Ein Berliner.
curated by: Verena Tafel and Helmut Schuster
You are cordially invited to the preview opening of thesecond exhibition in the Dezer Schauhalle Miami.
Long ago it was Venice and Florence, then Paris and later New York and today the city for emerging art is Berlin. Without a doubt, Berlin is the city to be in for young,emerging artists. We would be honoured to see you at the opening reception:
Michael Dezer / Helmut Schuster
The Artists: Menno Aden – Dieter Appelt – Martin Assig – Clara Bahlsen – Kaya Behkalam – Katarzyna Belski-Urban – Isabelle Borges – Benjamin Dewor – Juliane Eirich – Antje Engelmann – Dana Engfer – Lina Faller – Xenia Fink – Valerie Favre – Constantin Hartenstein – Jens Hausmann – Burkhard Held – Carla-Mercedes Hihn – Karl-Horst Hödicke – Rebecca Horn – Leiko Ikemura – Gerit Koglin – Cyrill Lachauer – Robert Lucander – Simon Menner – Helmut Middendorf – Vladimir Mitrev – Christiane Möbus – Wolfgang Petrick – Sophia Pompery – Jovana Popic – Achim Riethmann – Gabriel Rossell Santillan – Günter Scharein – Maya Schweizer – Katharina Sieverding – Bosse Sudenburg – Axel Teichmann – Yukkiko Terada
The exhibition is a cooperation between DezerSchauhalle Miami and the Freundeskreis der UDK Berlin.