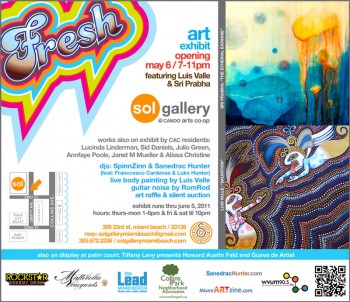 CANDO Arts Co-op, Art Opening: "Fresh"
May 6,2011, 7pm-11pm
Sol Gallery at CANDO Arts Co-op
309 23rd St.
Miami Beach, Fl 33139
Website.
Miami Beach's only artist run collective, CANDO Arts Co-op, announces the opening of "Fresh" with the introduction of Sol Gallery, and CAC's new resident artists, Luis Valle and Sri Prabha.
Join Sol Gallery as we kick off Spring with "Fresh" at Sol Gallery in Miami Beach. Our opening reception is Friday May 6th, 2011 from 7:00PM to 11 PM. with the show running through June 5th. The event will feature award winning art by artists Luis Valle and Sri Prabha. We will have a silent auction, art raffle, DJs, and live body painting by Luis Valle. Our opening night will be a visual and aural feast with DJs SpinnZinn and Sanedrac Hunter, and guitar noise by RomRod.
What the artists say about their work:
Luis Valle: "My paintings are the bi-product of my continuous journey of self- discovery. This journey travels through many paths such as nationality, race, spirituality and psyche. What are my origins, where do I come from, and what is my purpose are a few of the questions I attempt to answer."
Sri Prabha: "My paintings illuminate and address a connection to nature in its raw and ancient forms."
"His works simultaneously convey the conflicting forces and processes that create and alter the natural world yet are often hidden from the human eye. This is an artist who has studied natural systems – the molten mantle and core of the earth, the harmonics of water movement, and the role of history in shaping what exists today can easily be recognized by the viewer…."
Works also on exhibit by CAC resident artists:
Lucinda Linderman reclaims plastic from around Miami to create interactive sculptures.
Sid Daniels," I think of myself as a contemporary Toulouse Lautrec. My variation on the 'showgirl' theme is expressed on canvas with a vibrant Latin beat and with a sense of humor, as I flirt with the world of burlesque, 1940s Hollywood musicals, Art Deco and the Swing Era."
Julio Green, "My abstracts are my feelings, emotions and daily desires expressed in the way of forms and colors. When looking at everyday objects or situations, I tend to personify them on canvas, giving the art life"
Annfaye Poole, "Out of gentle sadness, I have created these works that hover in and out of life's shadows to admit, yet obscure, my seduction with the absurdities of human existence."
Janet M. Mueller relays messages in abstraction while experimenting with various art forms. Her large canvases are bold images of simplicity, yet the meaning behind the work is complex. The sculptures, made from found objects, express situations of life in today's world.
Alissa Christine channels the essence of beauty through her work and draws inspiration from the celebration of the pure and simple
joys of life. Recognized for her professional photography, Alissa's art spans mediums with innovative fusions of photography,
lighting, movement, painting, sculpture, and display.
The CANDO Arts Co-op is a contemporary Art Center in Miami Beach that was founded by Ray Breslin, president of Collins Park Neighborhood Association(CPNA) in November, 2009. CANDO, which stands for Cultural Arts Neighborhood Districts Overlay, is in the Collins Park neighborhood. The historic building, known as Palm Court, is a work of art in itself, with archways framing tall display windows. Having been previously occupied by the W Hotel's administrative offices, Sol Gallery's interior is impeccably designed. Thought-provoking work of resident and guest artists is showcased in the contemporary atmosphere of "Sol Gallery", and also used for rotating exhibits, open calls, classes, and special events.
As an artist run gallery, we want to create a place for growth for our artists, a place to be seen, and a place for experimentation. Sol Gallery will be a destination for great art events, workshops, classes, and a place to purchase artwork by local artists.
Also on display at the Palm Court building: Tiffany Levy presents Howard Austen Feld and Guava de Artist.
Gallery Location and Hours: Sol Gallery at the CANDO Arts Co –op: 309 23rd St. Miami Beach, Fl 33139 (one block west of Collins Ave.) Open Thursday-Monday 1-6pm/ Friday & Saturday 1-10pm. Tuesday and Wednesday by Appointment.