Brenda Alford's Birthday Concert
Saturday, 10/16/2021-, 08:00 pm-10:00 am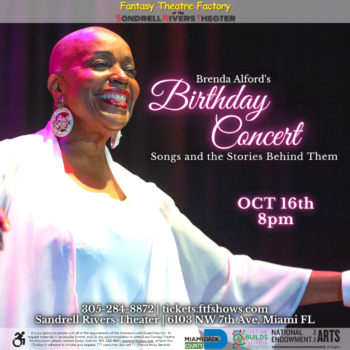 Sandrell Rivers Theater
6103 NW 7th Ave.,
Miami, Florida, 33127
Buy Tickets
Cost: $20
Requiring social distancing? YES
Requiring masks? YES
Providing hand sanitizer? YES
Join us for a magical night of live music with Brenda Alford and her Quintet at the Sandrell Rivers Theater!
Ms. Alford is joined in this concert by Venezuelan pianist and album producer, Antulio Mora, the renowned bassist, Paul Shewchuk, the brilliant drummer, J.D. Anderson, and the great Jesse Jones, Jr. on saxophone.
The Brenda Alford Quintet will have you tapping your toes to the swinging rhythms of some of the greatest jazz standards from her mentors and idols, Ella Fitzgerald, Carmen McRae, and Billie Holliday.
You'll hear the soulful jazz side of Aretha Franklin as well as some of the unique arrangements that were created by and for Brenda– a real testament to her artistry.
Music from Brenda Alford's latest cd, "Messages…Songs for the Soul" will be included in this concert!
COVID-19 Protocol & Practices: Read more at: Masks and temperature checks are required and social distancing will be enforced.
ADA Accommodations: It is our policy to comply with all of the requirements of the Americans with Disabilities Act. To request materials in accessible format, and/or any accommodation to attend any Fantasy Theatre Factory event, please contact Evelyn Sullivan, 305-284-8800, evelyn@ftfshows.com, at least five (5) days in advance to initiate your request, TTY users may also call 711 (Florida Relay Service).
Sponsors: Thank you to the Miami-Dade County Department of Cultural Affairs and the Cultural Affairs Council, the Miami-Dade County Mayor and Board of County Commissioners, the Broward County Cultural Division, sponsored in part by the State of Florida, Department of State, Division of Arts and Culture and the Florida Council on Arts and Culture, and the National Endowment for the Arts.