Cinderella A Fractured Fairy Tale
Sunday, 07/11/2021-, 06:00 pm-07:00 pm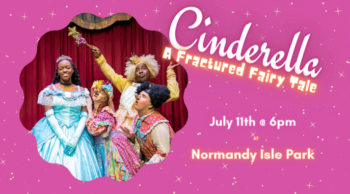 Normandy Ise Park
7030 Trouville Esplanade,
Miami Beach, Florida, 33141
Buy Tickets
Cost: $25 per pod. 5 seats per pod.
Requiring social distancing? YES
Requiring masks? OPTIONAL
Providing hand sanitizer? YES
It's a Cinderella Story– like you've never seen it before!
Take the classic story of Cinderella, mix in elements of comedy, slapstick, music, acrobatics and magic, and you've got a new version of an old story that leaves kids (and adults) begging for more! The show is great for primary grades, and older students appreciate the flippant comic style of this "Fractured Fairy Tale".
POD Seating. 1 ticket= 1 pod. 5 seats per pod
Bring your own chairs/blankets
Ticket Portal goes Live on June 28th
Sponsors: This program was made possible with the support of the Miami-Dade County Department of Cultural Affairs and the Cultural Affairs Council, the Miami-Dade County Mayor and Board of County Commissioners, the City of Miami Beach, the City of Miami Beach Cultural Affairs Program, and the City of Miami Beach Cultural Arts Council, the Broward County Cultural Division, Funding Arts Broward, sponsored in part by the State of Florida, Department of State, Division of Cultural Affairs and the Florida Council on Arts and Culture, and the National Endowment for the Arts.