Le Petit Papillon Montessori School "Be the Child Night" 2012 Open House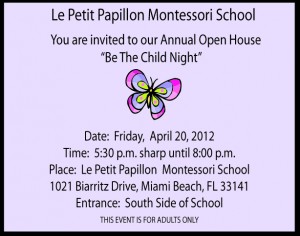 April 20, 2012, 5:30 p.m.- 8:00 p.m.
Le Petit Papillon Montessori School
1021 Biarritz Drive
Miami Beach
www.lepetitpapillonmontessori.com
On Friday, April 20th from 5:30 p.m.- 8:00 p.m., Le Petit Papillon Montessori School, Miami Beach's leading educator in Montessori methodology, will proudly open their doors to the public (adults-only) for an incredibly exciting evening of faculty meet and greets, school tour, and classroom demonstrations as part of their 2012 Open House.
Parents will be amazed as they view classroom installations designed by the multi-talented staff and students of the school. Exhibits will include "Around the World with Art," connecting various geographical locations with their art culture, such as Aboriginal Bark Paintings from Australia and Ashanti Adinkra Cloths from Africa. Additional classroom works will include "A Ring of Fire" modeling the stages of volcanic eruption; "Animal Kingdom" paper-mache model; "Archeological Forensic Anthropology" skeletal display and video presentation describing the role of an anthropologist, and much more. A fine selection of refreshments, hors d'oeuvres and musical entertainment will also be provided.
For over ten years, Le Petit Papillon Montessori School has been developing leaders capable of changing the world for the better. Their programs are mirror image of the North Miami Beach community—diverse, proud and innovative. They create a vibrant learning environment where students have the opportunity to make their goals a reality through enriching concrete materials. Students spend their days working along side a prestigious and dedicated faculty, as well as with some of the regions top leaders in their field. The school prides itself on providing a serious education for the seriously motivated. Graduates leave with savvy, global perspectives and interpersonal skills that fuel academic careers of significance.
Le Petit Papillon has received many awards that recognize their commitment to social and academic excellence. This elite distinction makes them the top Montessori school in the community. You are welcomed to attend this remarkable event, which will open your eyes to a world of possibilities for your children (ages toddler through upper elementary level). Open enrollment is currently available for the 2012/2013 school year.