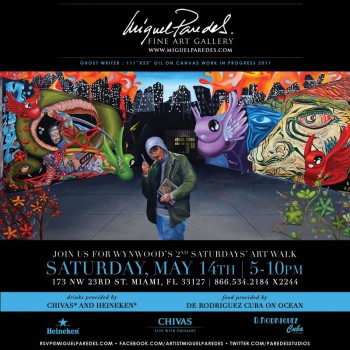 Saturday. May 14th, 5pm – 10pm
Miguel Paredes Fine Art Gallery
During Wynwood's 2nd Saturdays' Art Walk
173 NW 23rd Street
Wynwood Arts District
Miami, FL 33127
RSVP now: rsvp@miguelparedes.com
We invite you to join us for the Art Walk at our 5,500 sq/ft gallery!
Complimentary Cocktails provided by: Chivas / Heineken
Food provided by: De Rodriguez Cuba On Ocean
On Saturday, May 14th from 5:00 to 10:00 p.m., Miami-based pop and multi-media artist, sculptor and urban realist, Miguel Paredes, will present his latest piece of artwork, "Ghost Writer," at his Wynwood gallery during the neighborhood's popular 2nd Saturdays Art Walk.
Paredes explains "Ghost Writer" is one of his most intricate pieces to date. "I really enjoyed creating 'Ghost Writer' because I was able to incorporate different elements of realism, urban surreal pop, anime and abstract art into one piece. Experimenting with acrylic oils, pastels and collage work was even more exciting and it allowed me to make the painting really stand out. I love working with mixed media!" says the artist.
Guests in attendance will enjoy light "Nuevo Latino" fare by De Rodriguez Cuba on Ocean and its renowned chef Douglas Rodriguez. "I am very excited to be working with Miguel on this initiative," said Rodriguez. "Being a part of the 'Ghost Writer' presentation is a huge honor and I look forward to many more creative collaborations with him."
In addition, complimentary Chivas signature cocktails such as a tropical "Out of this World Punch" and a sweet "Chivas Smash" will be available along with a selection of beers from the Heineken art bar. Local DJ Ari X will provide the tunes for the evening. Those interested in attending, should confirm their RSVP by emailing: RSVP@miguelparedes.com
"Ghost Writer" is 111 inches by 55 inches and will be on permanent display at Miguel Paredes Fine Art Gallery – 173 NW 23rd Street Miami, FL 33127.
About Miguel Paredes
Paredes, a New York native, is an Urban Realist who combines cutting-edge techniques of street art, pop art and Japanese animation to create his own genre of trend-forward pieces. Drawing inspiration from pop icons such as his own mentor Ronnie Cutrone, Andy Warhol's immediate assistant at The Factory during the notorious pop artist's most productive and prestigious years, Warhol himself and Keith Haring, Paredes has created his own unique and explosive style. His combination of street graffiti, landscape and pop art have propelled his crossover from street walls, during his days as a student at the prestigious Fiorello LaGuardia High School of Music and Art in the '80s, to becoming a highly regarded creator of fine decorative art, prized by collectors from Los Angeles to Seoul.
Paredes, now Miami-based, has become one of the local arts' scenes most prosperous artists. "Pulgha World," an 18×26 mosaic mural donated by the artist on August 2010, is a colorful landmark located in the heart of Wynwood Arts District and his nearby new solo space, Miguel Paredes Fine Art Gallery, opened on February 2011 to rave reviews. Furthermore, he recently became the first Miami-Dade resident to ever receive simultaneous proclamations from the City of Miami Beach and Village of Pinecrest honoring his artistic donation to the Miami Design Preservation League's Art Deco Welcome Center and support of historic preservation, devotion to the city and positive impact on the community.
The artist is also well-known for his iconic, Japanese anime-inspired digital series Pulghaâ"¢ & Birds. In this collection Pulghaâ"¢, a magical flea, and her friends the spirited Birds, Yoli & Kosue, join forces for good. An original, branded cartoon series based on these creations is being represented by the William Morris Endeavor Agency and the first in a new collection of fine oil paintings "Pulgha Flight" is currently on display at his Wynwood gallery. Moreover, Paredes continues to make his mark by further expanding his inspirational environment while simultaneously showcasing his works at local, national and international shows, including Artist-In-Residence at the iconic National Hotel during Art Basel Miami Beach, 2010.
For more information, please visit: www.miguelparedes.com
please visit us online: www.miguelparedes.com
www.facebook.com/artistmiguelparedes
www.twitter.com/paredesstudios