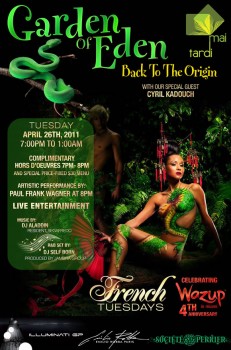 Tuesday April 26, 7PM to 1AM
Maitardi
163 NE 39th Street
Miami, FL 33137
RSVP Here.
Complimentary Hors D'Oeuvres from 7-8PM
And Special price-fixed $30 Menu
It is mandatory to RSVP and there is a strict dress code:
Dress code is fashionably chic (strictly NO t-shirts/sneakers, collared shirt mandatory for men, no baggy or ripped jeans for men or women).
We are also accepting dinner reservations (dress code still in effect). Please call 305-572-1400!