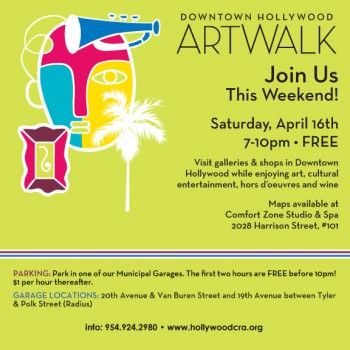 Downtown Hollywood ArtWalk
Saturday, April 16th, 7-10pm
2028 Harrison Street
Join us this weekend!
FREE
Visit galleries and shops in Downtown Hollywood while enjoying art, cultural entertainment, hors d'oeuvres and wine.
Maps available at Comfort Zone Studio & Spa, 2028 Harrison Street, #101
Parking: Park in one of our Municipal Garages. The first two hours are FREE before 10pm! $1 per hour thereafter.
Garage Locations: 20th Avenue & Van Buren Street and 19th Avenue between Tyler & Polk Street (Radius).
Info: 954-924-2980 or www.HollywoodCRA.org