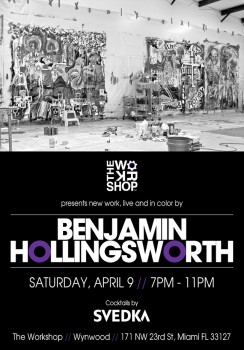 The Workshop & Svedka Present New Work by Benjamin Hollingsworth
April 9,8pm – 12am
171 NW 23rd St
Miami, FL 33127
The Workshop Presents: Works By Benjamin Hollingsworth
Sponsored By: Svedka Vodka
Take in complimentary vodka cocktails and the works of artist Ben Hollingsworth, professional soccer player turned multimedia artist, during April's Art Walk.
Wynwood is the up and coming destination for the arts and the cultured. Such a specific area has been much needed in Miami, and over the last few years, Wynwood has finally earned its place as the pinnacle of the Miami art-world. The area's monthly art walks are the culmination of the in-the-know locals and top-tier visitors. Having a presence at these events aligns brands with the most coveted people and happenings in the city.
This month, we are proud to have professional soccer player turned artist Benjamin Hollingsworth display his work in the heart of this art epicenter. As his first Miami appearance since 2010's Art Basel, it's an honor to have this up and coming visionary grace the Miami studio walls for April's walk. Each Hollingsworth piece is distinctively unique, yet, with each one's unrelentless use of color and subtle use of symbolism, the observer cannot help but to be captivated and moved.
In April, Benjamin will be exhibiting never before seen works that vary from "huge 8 x 10ft drawings on sheets of paper" and then some smaller pieces "done on top of vintage LIFE magazine covers." Showcased pieces will be available for purchase.
About Benjamin Hollingsworth:
Until three and a half years ago, Benjamin Hollingsworth was living out his childhood dream of being a professional soccer player. At 27, amidst the height of his sporting career, Hollingsworth suffered a serious foot injury, forcing him to reconsider his life's path.
As a release from his frustrations, he turned to art. Immersing himself in art history books and taking a self-reflecting trip to Paris– all along gallivanting galleries and museums, he found himself entirely consumed by art.
Moving to NYC on a limb, Hollingsworth further integrated himself into the art world – working in a studio by day and delving deeply into his creativity by night. However, it was not until his stepfather was diagnosed with cancer in 2009 that, ironically, he got his big break.
Compelled to leave it all, Hollingsworth returned to Charleston to support his step-father – all the while, never giving up on his new passion.
"I lived in empty building in the middle of downtown Charleston and started producing new work for an idea I had to for a solo exhibit," he says. In May, he took advantage of the empty space for the exhibition, which put him "on the map."
"Since then things have taken off," he says. " Art saved me, and helped me get over a very, very tragic event in my life."
As one of the more recognizable up and comers in the art scene, Hollingsworth was featured in the likes of Interview and Versus magazines and has been exhibited in some of the most renowned hotels and shows around the nation, including this past year's Art Basel.
His works:
Hollingsworth works in a very mixed media format, from installations and photographs to large scale paintings. "I think allot of it is very raw in nature but there are always underlining themes and concepts," he says. "I tend to do things in series."