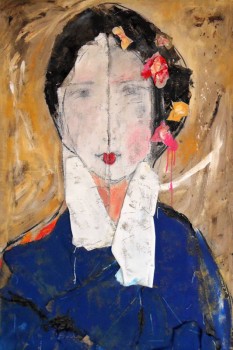 Opening Reception for Erikae: Turning of the Collar
Saturday, Feb 19, 7:30 pm
MANO Fine Art Project Space
in the Bird Road Art District
4225 SW 75 Avenue
Miami, FL 33155
www.manofineart.com
After an apprentice Geisha takes the step of Erikae she wears the white collar of a Geisha…
Join us for the Opening Reception of
MANO's newest collection
Erikae: The Turning of the Collar
In this new body of work, MANO exaggerates details and abstracts the familiar to revitalize the iconic beauty and mystery of the Geisha. Pale white faces with dark eyes and hair, red lips drawn to look like flowers emerge from canvases richly textured with unlikely materials.
The Opening reception for Erikae will be held during the new Bird Road Art Walk.
Originally from Cuba, MANO has lived and worked in Miami for more than twenty years. He exhibits his work regularly here and abroad.
For more information on MANO's new collection contact 305.467.6819 or visit www.manofineart.com.
Photo: Saki(Blossom of Hope) mixed media, 66″ x 44″ by MANO