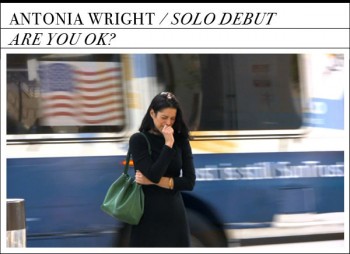 Spinello Gallery: 155 NE 38th Street, No. 101, Miami, Florida – 33137
Solo: Antonia Wright | "Are You Ok?"
Opening Reception: Saturday, February 12th, 7-10pm
Are You Ok? [2007 – 2011] | Video Still, Miami
Spinello Gallery is proud to present the solo debut exhibition of Antonia Wright, "Are You Ok?". The exhibition features a video installation which reveals Ms. Wright crying in the crowded streets of both Downtown Miami and Midtown New York, while capturing the responses of those passing by. The project explores the concept of social structure and tests our rules of behavior within different systems. Wright views each performance as a social experiment analyzing different communities and the individuals who may or may not stop to ask if she is okay. Wright appears to be well dressed. Her outfit consists of a simple black dress, high heels, and a purse. She stands in well-trafficked areas as the voyeur, her camera on a tripod, is located far from view. Wright attempts to make each encounter authentic, she breaths deeply and thinks of all the sad…
Miami-born artist Antonia Wright questions the world around her and attempts to find answers through poetry, performance, photography, video art, installation and sculpture. Members of the public are invited to become accomplices in this quest to understand, and through the process, she unveils the bizarre, the sad, the wonderful and discovery of why we do the things we do. Wright's history as an artist can also be described as an exploratory journey. The daughter of well-known Cuban-American author, Carolina Garcia-Aguilera, Wright's first creative love was also the written word. Wright wrote short stories for many years that became increasingly shorter and shorter until she finally embraced poetry. She received an M.F.A. in poetry from the New School University in New York City and became interested in photography when she started shooting photographs for her poetry manuscripts. Realizing that each image mirrored poetry's poignant eloquence in communicating an idea, Wright threw herself into photography, studying at the International Center of Photography and working for a renowned photographers, including Clyde Butcher and Patrick Demarchelier as well as worked for VICE magazine. Wanting to experiment further, performance, video art and installation work followed naturally for Wright. Her projects have ranged from crying in the streets and documenting that no one stops to ask if she's okay to rolling naked down alleys to smoking a cigar dressed as Fidel Castro until she is violently ill. All her work is extremely visceral and she brings everything to the body.
Opening Reception: Saturday, February 12th / Exhibition through February 26, 2011.
Spinello Gallery prides itself in exhibiting intelligent works of art in every medium by contemporary local Miami emerging artists. Spinello Gallery has become the playground for unorthodox and experimental artists who don't easily fit into the confines of the traditional gallery space. Spinello Gallery is steadily making headway in the Miami Art Scene and beyond becoming a contender in the Art World.