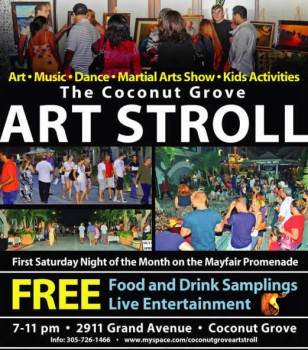 The Coconut Grove Art Stroll
02/05/2011, 7:00pm-11:00pm
Mayfair Promenade
2911 Grand Ave
Coconut Grove Fl. 33133
More Info.
Admission: Free
Saturday Night at Coconut Grove Art Stroll
Is Celebrating the New year with A Mix of Artists, Art Demonstrations, Live Music, Dance Performances, Street Magicians, Food & Beverage Sampling. Free event at Mayfair in the Grove offers Activities for the Whole Family
SCHEDULE OF EVENTS
7:00 p.m. – 11:00 p.m. – Art Exhibits by locals and international artist Gallery Openings.
7:00 p.m. – 11:00 p.m. – Street Magicians by The House of Flying Cards.
8:00 p.m. – 8.:30 p.m. – Serena Stroppa, an expressive pop/folk/rock, singer/songwriter
8:00 p.m. – 11:00 p.m. – Sunday Quorum, one of Miami's Premier Party Bands
On Saturday, February 5th, Coconut Grove Art Stroll once again will be offering a fabulous array of new artists and entertainers. Enjoy free food and beverages by some of Miami's most popular restaurants and sponsors including Coconut Grove's Milam's Market, Pollo Tropical, and Miller Light Beer. Over 40 local and international artists will participate. To enrich the experience, festivities will include live music by Sunday Quorum, one of Miami's Premier Party Bands. With a mix of rock, funk, blues and a little Latin flavor. Serena Stroppa, an expressive pop/folk/rock, singer/songwriter, will rock you off your feet! The House of Flying Cards will entertain the audience with ongoing street magic performances.
In addition" Artway66 Gallery" Set in a Modern Artist's loft at the Mayfair promenade in Coconut Grove, ArtWay66 evokes a time when artists found inspiration and community in sharing their work, and philosophy with one another. The bohemian lifestyle fashioned life as a grand celebration, a feast of the senses to be shared and treasured. Together, artists found kinship over every Gallery exhibits and events, over cocktails, live music, artistic performance and conversation. During the Love Month Artway66 Gallery will host a one of a kind Art exhibit, "Love is Everywhere" presenting artists: Lea Alcantara, Johnny Valdes, Proman Garcia, Marlenes Gasiba, Luis Breso, Kurt Merkel, Arien Lopez, Haydee Pichardo, Candace Chloe, Joseph Lawrence Vasile, Trina Colins, Brent Miller, Alexander Calderon,Yampier Sardina and Miami Hottest Jewelry Designer Steven Anton Rahage, 17 Artists, 17 different styles. Special Live Music Presentation by: Sunday Quorum, Serena Stroppa. Live Poetry
by: Ariel Sakowitz . Enjoy Open Bar and Tapas, all night long. Ask for your $50 toward the purchase of an art work at the gallery. Sponsored: by Pollo Tropical.
Call for R.S.V.P 305-726-1466 or Email at Artway66@Yahoo.com
www.artway66.com
GroveHouse Artist Gallery will be Presenting The 6th anniversary and February art opening.
"Mimosa and Martinelli's" featured Artist Michell Schulman.
An exhibition by Members Artist from 7:00pm – 11:00pm
Grove Retrospective Gallery Featuring in February "Black history Month"
Fine Haitian Art Original Florida Highwaymen Art. Local Artist-Purvis Young.
Coconut Grove Art Festival Gallery. Will be presenting "Eco Abstraction" The Art of Scherley Buch.
This free monthly cultural event founded and directed by Johnny Valdes has proved to be an excellent way to spend a casual Saturday evening.
Some of the artists exhibiting works in the festival include Johnny Valdes, Proman Garcia, Barbara Cooper Hanson, Manuel Menendes, Arien Lopez, Marlenes Gasiba, Nelba Gonzales, Phyllis Hain, Beradette Denoux, Daisy Rodriguez, Ana M Bikic, Rolando J. Mendez, William Mark Coulthard, Pedro Rivero and Vidal J. Rivero. Special exhibit by Venezuelan contemporary modern artist Miguel Angel Rubio presenting his new collection.
In addition, kids can enjoy creating and painting at the Children's Arts & Crafts area, which is taught by "Captain Art" the kid's number 1 Art Teacher, former school teacher for over 25 years in the Miami Dade School System.
By presenting the event flyer, one may enter the raffle to win a free 60″ X 16″ Miami skyline panoramic photo by Johnny.