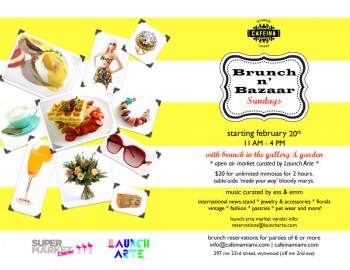 Designers! Stylists! Entrepreneurs! Artists! Bakers!
Sunday February, 20, 11am – 4pm
SuperMarket Creative and TARA, Ink are launching a new program at Cafeina Gallery + Lounge in Wynwood, as we take advantage of Miami Sunday's and the beautiful & intimate 5,000 sq ft. outdoor terrace, with Brunch n' Bazaar. Starting Sunday February, 20, locals will be able to brunch with a menu that can sooth the soul or ease the hangover. The $20 unlimited Mimosa's and table side made your way Bloody Mary's are just a few of the perks customers will enjoy. Music is curated by Ess & Emm with a playlist ranging from Brazilian Jazz to French Pop, perfect for that treasure hunting or brunch experience.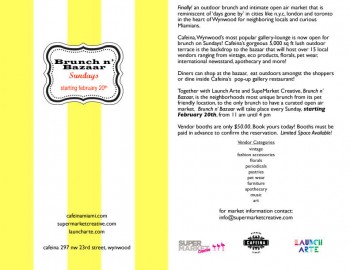 For the bazaar segment, there will be 15 vendors available on site. They are looking for specific categories and the best Miami has to offer from vintage, furniture, accessories, apothecary, pet wear, music, pastries and more!
Together with SuperMarket Creative and TARA, Ink, selected vendors of Brunch n' Bazaar, will be included in the marketing and public relations campaign.
Interested vendors, please contact Michelle Leshem michelle@supermarketcreative.com at your earliest convenience, since the bazaar is only a few weeks away. Space is limited; they are looking for quality vs. quantity!
Vendor spaces begin at $50.00 and include a table, chair and tent.