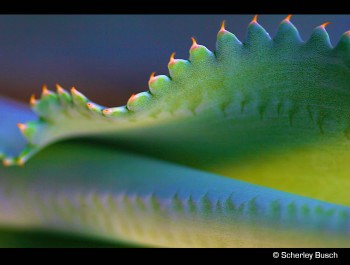 Keeping it Real – Eco Abstractions
Saturday, February 5, 7 p.m. – 9 p.m
Coconut Grove Arts Festival Gallery
3390 Mary Street, Suite 128
"Keeping it Real – Eco Abstractions" Tells a Factual Tale through Abstract Photography
Exhibition Showcases Newest work by highly regarded and Grove Photographer Scherley Busch
Beginning Saturday, February 5, the Coconut Grove Arts Festival Gallery will present its latest exhibition, "Keeping it Real – Eco Abstractions" – a one woman show by internationally recognized South Florida fine arts photographer Scherley Busch.
Busch departs from her noted figurative imagery and breaks out of the confines of what is considered traditional fine art nature and landscape photography to engage in real world issues. "Keeping it Real – Eco Abstractions" bridges the gap between art and life by raising awareness and appreciation for our natural resources in all its "abstractions."
Exhibiting intimate and fresh color photographic compositions, Busch uses her camera to "paint with light" as lush tropical tones play against geometric angles and sinuous curves. She also uses Florida's searing sunlight and sensual geography as her color palette. Her unique vision will be accompanied by hi-tech meditation videos that embrace nature's subtle rhythms and allow viewers the ability to transcend nature's beauty.
"It's all right in front of us," said Busch. "It's just finding the time to appreciate the all encompassing spirit of that which surrounds us. Art has the ability to help us become aware and to reconnect to the mystery and beauty of nature."
Busch launched her photographic career while working in New York City. A former painter and sculptor, Busch's professional experience has included advertising and fashion photography in Miami. She is recognized as one of the first female commercial photographers in the South, and today is recognized as one of the foremost portraitists in the state.
Busch's work can be found in museums and galleries, as well as highly recognized collections, both private and public. She is recognized for her historical portrait documentary Florida Women of Achievement and infrared Miami Dreamscapes series – which can be found at Miami International Airport and other prominent national key sites. Her professional photography encompasses advertising and editorial clients in major corporations and publications.
"Keeping it Real – Eco Abstractions" makes its first appearance during the Coconut Grove Gallery Walk on Saturday, February 5 with a reception from 7 p.m. – 9 p.m. The exhibition runs through March 21. The Coconut Grove Arts Festival Gallery is located in the Shoppes at Mayfair (3390 Mary Street, Suite 128).
Busch will conduct a "Meet the Artist at the Gallery" during the Coconut Grove Arts Festival®, President's Day Weekend, February 19 – 21, from 10 a.m. – 6 p.m.
The Arts Festival is produced by the non-profit Coconut Grove Arts and Historical Association. Proceeds help fund year-round arts programs benefitting a scholarship fund that will create opportunities for Miami-Dade County's talented students to continue their art education. The association also maintains the Coconut Grove Arts Festival Gallery and presents special exhibitions throughout the year from its location at Mayfair.
Since its inception in 1963, the association has awarded more than $100,000 in scholarships to students who attend fine arts programs in local schools.
The Grove Gallery Walk takes places the first Saturday of every month. Other galleries featured in the Walk include ArtWay 66, Blue Moon Studio of Art, Cristina Chacon Studio/Gallery, Dharma Studio, Frameworks Studio, Grove House Artists, Grove Retrospective Gallery, Max in the Grove, Nomade Art Gallery and RODEZart.com Gallery.
Artist's Statement – As an artist and photographer, my passion is to reveal the beauty around me, to illuminate the soul of my subjects and capture a unique vision. Everyone and everything has a special aura, I record images from the core. When I look though my lens, I connect with my subject, it's Zen-like. I become totally immersed. I transcend to a special place where I sense what my subject is about. Sometimes it takes tremendous patience and I must wait for the right moment. Other times, magic happens instantly.