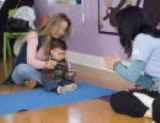 FREE Music Together® Demo Class!
February 16th, 2011, 4-4:45 pm
Playing the Game of Life Enrichment Center
7144 Byron Ave.
Miami Beach, FL 33141
www.PlayingtheGameofLife.com
Music Together® is an internationally recognized music program where children and parents experience the joy of music through songs, dance, and instrument play.
Alisha has been teaching Music Together since 2004, and is excited to be offering her first Music Together classes here in Miami!
Come sing, dance and groove with us!
Please call 305-864-5237 or email Alisha@ecqc.biz to register for this FREE class! You can also check out our website at www.PlayingtheGameofLife.com!
Playing the Game of Life is licensed by Music Together LLC-www.musictogether.com