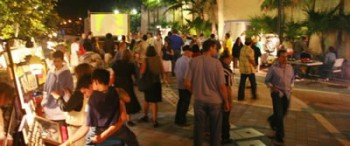 Friday, January 28th, 7 – 11 pm
SW 8th St. Miami
between 14th Ave & 17th Ave
FREE
* Free Tour of Little Havana with legendary local historian Dr. Paul George (meet in front of the Tower Theater (1508 SW 8th St.) at 7 pm. He'll share some of the spookier tales about the area.
* Art Fairs in Domino Plaza and SW 8th St. between 14th and 15th Avenues.
* Domino Competition in Domino Park (prizes awarded)
* Street Performers & Activities including the human statue, Tarot Card reader, henna art, domino games, guitar music by the talented composter/singer/instrumentalist Rudolpho Nunez.
* Salsa dancing on the patio of the Pub (16th Ave. & SW 8th St.)
* Enjoy Uruguayan traditional drumming and dance outside Pizza a la Pala, an Uruguayan restaurant, on SW 8th between 13th and 14th Aves.
* Explore art galleries and artist studios. Meet local artists and see galleries featuring both emerging and internationally known talent, with new exhibits at several local galleries, many of which also present live music during the festival.
* A Mariachi group (El Cielito Lindo) will perform in front of El Buen Sabor (Mexican).
* Enjoy a cigar at one of our tobacco stores or factories.
* Take a tango dance class and experience a tango "Milonga" at DAF Studio (1501 SW 8th St., upstairs)
* Drink a mojito at CubaOcho or dine at one of our restaurants offering Cuban, Thai/Sushi, Uruguayan, Chinese or Mexican cuisine (or Spanish, if indeed Casa Panza re-opens in time!). Many places offer outdoor dining.
* Listen to live music in one of our many live music venues, including CubaOcho, Alfaro's, Art of Freedom, Art District Cigars, Molina Gallery, El Exquisito, Pizza a la Pala, Top Cigars, and other locales! Many venues are open late.
Domino Plaza Stage
At the south side (rear) of Domino Plaza (SW 15th Ave. & 8th St.)
7:00 pm Learn to dance tropical music, professional instructors will on the stage teaching you the latest moves
8:00 pm; Live DJ
8:30 pm; Live Band
9:30 pm; Live DJ
10:00 pm; Live Band