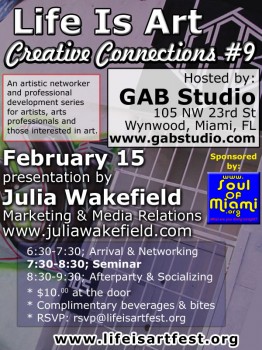 Life Is Art
Creative Connections #9
How to Get The Media's Attention
February 15, 6:30pm – 9:30pm
An artistic networker and professional development series for artists, arts professionals and those interested in art.
Please RSVP Here.
GAB Studio
105 NW 23rd St
Wynwood, Miami, FL 33127
www.gabstudio.com
* $10.00 at the door
* Complimentary beverages & bites
* RSVP.
presentation by
Julia K. Wakefield
Marketing & Media Relations
www.juliawakefield.com
6:30-7:30; Arrival & Networking
7:30-8:30; Seminar
8:30-9:30; Afterparty & Socializing
Sponsored by Soul Of Miami – www.soulofmiami.org
Seminar Description:
One of the most difficult and confusing aspects of business has always been public relations and marketing. How do you get the media to take notice of you? How do you get the word out about your product? Now, that has been compounded with the ascension of "social media", as whole new field of marketing.
Julia Wakefield is a public relations and marketing professional who currently works for Schwartz Media, a powerful public relations firm with clients such as the Miami Art Museum and the Adrienne Arsht Center. She is speaking on matters of marketing and media relations. Her topics include an overview of everything from starting a blog to creating a Facebook page to writing a press release. Plus, she is going to give tips on which media to contact, both locally and nationally. This is a seminar that no working artist should miss.
The night opens with time for socializing and networking with complimentary beverages and bites provided by Life Is Art. After the seminar, there is time for further specific questions and more networking. This is an excellent opportunity to come meet other working artists and arts professionals from around the area.
Julia K. Wakefield Biography:
Julia K. Wakefield is a public relations professional currently serving Schwartz Media Strategies as Senior Account Executive and Director of Social Media, where she helps drive strategic direction and manage proactive outreach for the firm's financial, healthcare, and commercial real estate clients and directs all social media initiatives on behalf of the firm and its clients. Previously, she was a Communications Specialist with The Weinbach Group. Ms. Wakefield holds a Bachelor of Arts degree in philosophy from Davidson College.
She is the immediate past president of the Association for Women in Communications South Florida, a century-old professional organization championing the careers of both women and men in all communications disciplines. Ms. Wakefield is also active in a number of other community organizations, including Social Media Club of South Florida, BadassBusinessWomen.com, Social Media for Social Change Miami, Life Is Art, and the University of Miami Friends of Philosophy.
Find Julia K. Wakefield on her blog at www.juliawakefield.com or connect with her via Twitter, Facebook, or LinkedIn.