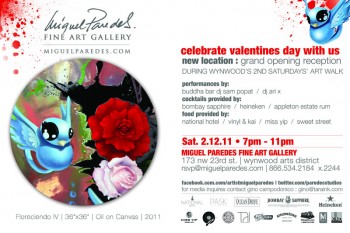 Miguel Paredes Fine Art Gallery New Location Grand Opening Reception
Saturday. Feb. 12. 7-11PM
173 NW 23rd Street
Wynwood Arts District
Miami, FL 33127
rsvp@miguelparedes.com
We invite you to join us for the unveiling of our new 5,500 sq/ft gallery
Event will Feature :
VIP Lounge
Complimentary Cocktails
& Light Bites
International Guest DJ
For More Info Or To Rsvp Please Contact Us:
Rsvp@Miguelparedes.Com – 866.534.2184 Ext.2244
Please Visit Us Online: Www.Miguelparedes.Com
Facebook.Com/Artistmiguelparedes
Twitter.Com/Paredesstudios
Artist Miguel Paredes To Celebrate The Opening Of His
New Wynwood Art Gallery In February
Urban realist will unveil his first functional 3D interior mural in new space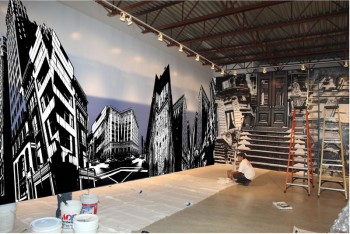 Fresh from his successful Art Basel Miami Beach 2010 exhibitions and events, Miami-based pop and multi-media artist, sculptor and urban realist Miguel Paredes will unveil the new home of his Wynwood Arts District hot spot, Paredes Fine Art Gallery, on Saturday, February 12 from 7:00 p.m. to 11:00 p.m. coinciding with the neighborhood's monthly "2nd Saturdays Art Walk." Guests will also enjoy music spun by international Buddha Lounge DJ Sam Popat and local DJ Ari X along with complimentary "Sapphire Dhiva" signature cocktails sponsored by Bombay Sapphire, Heineken art bars and Appleton Rum drinks. Light fare will be provided by Vinyl & Kai, Miss Yip, National Hotel Miami Beach, Kind Healthy Snacks and Sweet Street petite desserts. Guests should confirm their attendance by emailing: RSVP@miguelparedes.com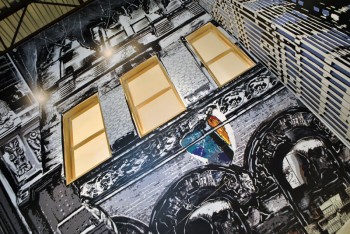 "I am eager to introduce Miami to my new gallery! After Basel, I really felt the need for a bigger creative playground and I was lucky enough to find the perfect space in my beloved Wynwood. This expansion will allow me to venture into bigger pieces and collaborations, but most importantly it will give my guests more room to interact with the artwork," said Paredes.
The new 5,500 square foot gallery located at 173 NW 23rd St. is a distinct upgrade in size compared to Paredes' former 1,700 square foot space around the block. The new gallery will be home to the artist's previous popular works, a small retail boutique featuring his art and colorful merchandise, as well as revisited pieces from his 90s collections such as Boroughs, Urban Dreams, New York Stories and Culture in a Bag. In addition, Paredes will reveal his first functional 3D interior mural-wrapped room entitled Brownstone Lounge.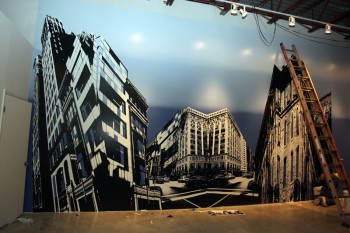 Brownstone Lounge is a complex piece of artwork produced by Paredes in collaboration with local interior designer, 3D specialist Jeff Vaughan and celebrated 20-year-old Broadway scenic designer and producer Antonio Marion, CEO of Marion Theatrical Productions in New York City. The 14 X 21 foot mural features Paredes' iconic New York brownstones along with an image of the artist's childhood home, an apartment building located at 144 W. 73rd St. However, it is Marion's expertise that makes the piece come to life.
"Even though my relationship with Miguel is new, I immediately was drawn to his artwork and admired the unique way he depicts New York. Architecture and design are both a huge passion for me and I am having such an incredible time adding perspective and depth to Miguel's pieces. My main goal is to make his fans feel like they're part of the painting by giving them ability to literally stand inside of it," said Marion.
Paredes Fine Arts Studio is located at 173 NW 23rd ST. Miami, FL. 33127. For more information, please visit www.miguelparedes.com
About Miguel Paredes
Paredes, a New York native, is an Urban Realist who combines cutting-edge techniques of street art, pop art and Japanese animation to create his own genre of trend-forward pieces.
Drawing inspiration from pop icons such as his own mentor Ronnie Cutrone, Andy Warhol's immediate assistant at The Factory during the notorious pop artist's most productive and prestigious years, Warhol himself and Keith Haring, Paredes has created his own unique and explosive style. His combination of street graffiti, landscape and pop art have propelled his crossover from street walls, during his days as a student at the prestigious Fiorello LaGuardia High School of Music and Art in the '80s, to becoming a highly regarded creator of fine decorative art, prized by collectors from Los Angeles to Seoul.
Paredes, now Miami-based, has become one of the booming local arts' scenes most prosperous artists. He opened his first solo gallery, Paredes Fine Art Studio, in the Wynwood Art District in June 2010. Paredes continues to make his mark by further expanding his inspirational environment while simultaneously showcasing his works at local, national and international shows, including Artist-In-Residence at the iconic National Hotel during Art Basel Miami Beach, 2010.
About Antonio Marion
Antonio Marion is CEO of Marion Theatrical Productions, a production company founded in 2006 and located in New York City. Originally from Canton, Ohio, Marion's passion for theater began at an early age due to family trips to New York and countless viewings of Broadway shows. Throughout high school, Marion became heavily involved in his hometown's theater community and later ventured to New York City to immerse himself in all aspects of Broadway full-time. Marion plans to continue pursuing a degree in Entertainment Marketing and PR at New York University this spring.
Marion Theatrical Productions is presently working on the revival of Broadway's "How to Succeed in Business Without Really Trying," opening in spring 2011, and Whoopi Goldberg's "White Noise" debuting in Chicago this fall. For more information, please contact Marion at tony@mariontheatricalproductions.com and/or visit www.mariontheatricalproductions.com
About Jeff Vaughan
Jeff Vaughan, a graduate of the San Francisco Art Institute, specializes in 3D projection sculptures which have been exhibited abroad in Germany, London and Japan and in many trendy nightclubs of the era such as Area and Palladium in NYC and GrooveJet and Mynt in Miami Beach. Vaughan exhibits his creative talents through his unique style of design and fabrication — from exotic waterfalls and eclectic silk lamps to slick nightclub theme designs. Vaughan, along with SRX Productions, has designed and built an array of innovative environments and décor for clients such as Elle Magazine and Krug and at one of Miami Beach's most exclusive nightclubs – LIV at the Fontainebleau. Vaughan is currently working on giant chenille stem sculptures which he intends to exhibit in the Wynwood Art District.