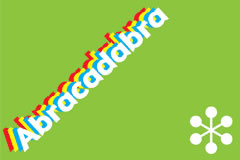 Abracadabra Fourth Annual Fund-raising Art Exhibition and Raffle
Opening Reception: Fri., Jan. 21, 6-9 pm
Art and Culture Center of Hollywood
1650 Harrison St.
Hollywood, FL 33020
Jan. 22 – Feb. 18, 2011
Raffle Event: Feb. 18, 6-9 pm
The Art and Culture Center of Hollywood puts the "fun" in fundraising with this event. – Michael Mills, arts writer
Named Best Art Event 2010 by the New Times Broward/Palm Beach
Now in its fourth year, this exhibition and fund-raiser is comprised of over 100 donated works in all media by artists who have been invited to participate. Abracadabra culminates with a live raffle of these outstanding art works in the main gallery. All works are exhibited prior to the evening of the raffle, affording ticket buyers an opportunity to preview the art before the main event!
Visit ArtAndCultureCenter.org/abracadabra for more information and to purchase raffle tickets.
Thank you for using Soul Of Miami!