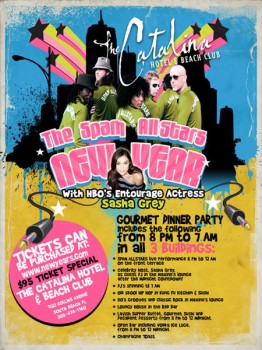 Sasha Grey & SPAM ALL-STARS Host Lavish NYE Dinner Party
Friday, December 31, 2010 8:00 PM
Catalina Hotel | 1732- 1756 Collins Avenue
Miami's known for having one of the best New Year's Eve celebrations in the nation, and this year it won't be any different. The Catalina Hotel and Beach Club welcomes you to join them as they once again present one of the biggest and most talked about New Year's Eve events in Miami, featuring music by The Spam All-Stars, with celeb host, actress Sasha Grey!
This lavish dinner party features access into all 3 Catalina buildings, as well as live music, seafood & caviar buffets, gourmet meats, the best pastas, sushi, an open bar and a champagne toast! Get your tickets for this highly anticipated event NOW because they're already on sale!