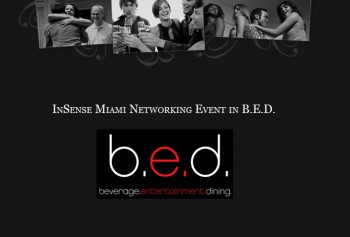 InSense Miami Networking Event
January 20, 2011, 7:00pm
B.E.D. Miami
929 Washington Ave.,
Miami Beach, FL 33139
Register Online.
InSense Miami is starting the year off right!
Join us at B.E.D. (beverage.entertainment.dining) for our first monthly networking event of 2011!
We welcome the movers and shakers of Miami to network, like never before – in BED!
Not only do we have drink specials but complimentary dinner for the ladies.
Be sure to bring plenty of business cards for Business Card Bingo and find the resources, leads and opportunities for your business or company.
There will also be a raffle to win free admission to our upcoming Business Boot Camp Friday, February 4, 2011 at IronFlower Fitness Miami
Admission is $15 ($20 at the door) and includes an amazing dinner (as seen on the Travel Channel) for the ladies.
Those bold enough to go out on a school night stay in B.E.D. longer for their Le Vie Champagne Thursdays with Miami's hottest tracks.
Look your best as photos will be taken and people will be tagged!