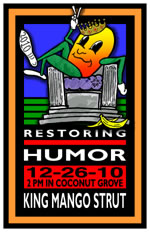 Be There Or Be Square!
Come & bring a friend – it will be a hoot!
Sunday, December 26 at 2 pm in Coconut Grove
Warning: This Parade Contains Nuts!
Join King Mango and his merry band of MangoHeads at the ultimate Tea party rally on Sunday, December 26th. Our theme this year is Restoring Humor.
At 2 pm, be there to witness the ceremonial banana dropping and the official start of the satirical parade to disperse gallons of oily jokes, slick skits and plumes of environmentally-challenged laughter into the pristine streets of downtown Coconut Grove. There's no containment dome, top hat, or blow-out preventers for this all-day gusher of GLEE that is guaranteed to last a long, long time.
For this year's Grand Marshal nothing but A Pair of Nuts would do to restore humor. The Nuts are the comedy sketch duo, Yamil Piedra and Johnny Trabanco. Their position on powder wigs and their wacky You-Tube videos wowed the selection committee with their commitment to Put the NUT back in CocoNUT Grove.
So bring your lawn chair and get ready to laugh because as creative as we are, we can't possibly make this stuff up. Ripped from the headlines:
Get a pardon by Charlie Crist!
Look out for Wikileaks!
Glee club yourself with the Vuvuzelas Marching Band!
Ask for today's special at the BP Café: Blackened Everything & Tuna Tar Tarred!
Fly with Christine O'Donnell on her I'm-not-a-Witch Tour!
Get that loving feeling from a TSA agent!
Receive a blessed condom from the Pope!
Become a member of Rick Scott's cabinet!
Get bitten by bed bugs!
Touch this junk and not get arrested!
See what else the Chilean miners can crawl out of!
And if that wasn't enough to want to grab a beer and bolt out an airplane's emergency slide, watch out for Snooki, Lindsey Lohan, Brett Farve, Home Foreclosures, Illegal Aliens, and Lady Gaga. All this and Shakespeare ala Mango Strut performed by New Theatre!
Expect to see the usual Strut suspects: The Hare Krishnas, the Marching Freds, Running of the Bull Sh*tters, Coconut Grove Juggling Exchange, Progressive Marching Funeral Band, Little Mr. & Miss. Mangoes, former Miss Mangoes and dethroned Miss Mangoes. King Mango Music Massacre will included bands: Iko-Iko, Tall Boys Soul Band and the Robby Hunter Band
The Pre-Parade activities begin at 1:30 pm at the corner of Commodore Plaza and Main Highway with Grand Master C, Buzz Fleischman, from WLRN's 'South Florida Arts Beat' Radio Buzz hosting the Little Mr. & Miss. Mango Pageant (for kids 4-10). This highly competitive pageant will surely make the new weeper of the House of Representative, Rep. John Boehner, cry. Early polling shows everyone is expected to win. The winners will ride the first float of the Strut.
All parade-goers should arrive early this year to go through TSA checkpoints. Avoid pink thongs, gerbils and stocking stuffers to avoid delay and if asked, don't tell. Grope discounts are available.
Parade begins at 2 pm at the corner of Commodore Plaza and Main Highway. The parade turns left onto Main Highway, turns left onto Grand Avenue at CocoWalk and back to Commodore Plaza. If we are having too much fun, we will go around again until we all fall down. After the Parade, the CommodorePlaza and Fuller Street will remain closed and the King Mango Music Massacre begins. All the bands in the parade will continue playing until the festivities end at 6 pm.
All this entertainment is free (cheaper than a therapist) and open to the public. There is plenty of parking along or near the parade route at Mayfair, CocoWalk, Coconut Grove Playhouse parking lot on Main Highway and Charles Avenue, St. Stephens Episcopal Church, Coconut Grove Elementary School, City garage at Oak Avenue and Mary Street, and the City garage next to the Sonesta Hotel. Click here for map for parking.
If you don't want to drive (who can blame you,) take the Metrorail to the Coconut Grove Station. There will be shuttle buses (the Coconut Grove Circulator) picking up eager parade-goers every 15 minutes at the station and dropping off 1 block from the parade route.
For more information, check our website www.kingmangostrut.org or call the Mango Hotline at 305-401-1171.
Putting the NUT in CocoNUT Grove since 1982.