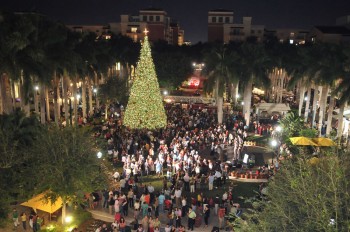 Village Of Merrick Park Hosts Its Annual Tree Lighting Ceremony To Kick Off The Holiday Season
Thursday, November 18th
6:30 p.m. – 8:30 p.m.
Tree Lighting will take place at 7:45 p.m.
Village of Merrick Park
358 San Lorenzo Avenue
Coral Gables, FL 33146
Christmas Tree Dates
Thursday, November 18th through January 6th, 2011
Residents and visitors alike are invited to join in Village of Merrick Park's annual Holiday Tree Lighting Ceremony
Village of Merrick Park kicks off the joyous season with its most beloved of free events, its annual Holiday Tree Lighting Ceremony. For the third time, Village of Merrick Park is environmentally friendly by lighting its 50- foot tree with 55,000 LED light bulbs. The Master of Ceremonies for this magical evening will be Belkys Nerey, Head News Anchor at FOX WSVN Channel 7.
Festivities will include a musical performance by the Coral Gables High School Choir and a holiday greeting from Santa Claus, Rudolph the Red- Nosed Reindeer, and other character favorites. Throughout The Garden live entertainment including stilt walkers and jugglers will take place. Other children's activities include a sugar cookie decoration station provided by
Whole Foods Market Coral Gables and an arts & crafts station provided
by Gymboree Play & Music.
Gather your family around the breath-taking tree for your first memorable photograph of the season. The tree will be lit at approximately 7:45 p.m. Bring an unwrapped gift to donate to The Voices for Children Foundation, an organization dedicated to raising funds for abused and neglected children in Miami-Dade County.