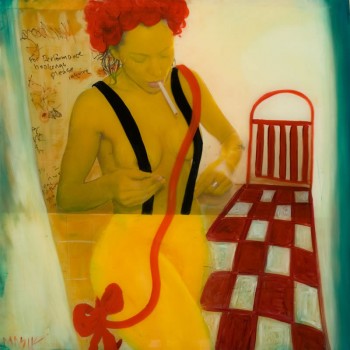 Experience The "Awakening" A Live Performance By Masik At Miami's Lavish Marquis Residences
Tuesday, November 30th, 2010
7:00 PM – 10:00 PM
Live Art Performance begins at 8:30 PM
Opening Cocktail Party and Live Performance (By Invitation Only)
Marquis Residences – Sky Pool Deck
1100 Biscayne Boulevard, 14th Floor
Miami, FL 33132
Opening Night Cocktail Party November 30, 2010
www.marquis-miami.com
Masik Gallery Installation
Wynwood Arts District
50 NW 29th Street
Miami, FL 33127
Installation On Display From November 29th To December 17th
Destined to be among the hottest events during Art Basel Miami Beach 2010, Marquis Residences and Whitewall Magazine present Pamela Masik who will perform her internationally acclaimed "Awakening," on Tuesday, November 30, 2010. Join us for an unparalleled art experience at Downtown Miami's most elevated location, Marquis Residences' Sky Pool Deck, located on the 14th floor of the 67-story building. With sprawling views overlooking Key Biscayne, guest will enjoy libations and light bites provided by Marquis Residences' world class signature restaurant Amuse. As this season's most dynamic and moving art event, Masik is one you will not want to miss.
The Caged Bird collection will also be on display from November 29th to December 17th in the Wynwood Arts District (50 NW 29th Street).The Caged Bird collection reveals, under layers of resin and oil, a series of photos that convey the ideas of sexuality, boundaries, and the illusion of security. "I believe the 'Caged Bird' series to be my most honest and personal work to date and it will definitely strike a chord with the audience on many levels."
There's no denying Masik's prolific nature with hundreds of paintings, sculptures, performances and videos including her most significant collection, 'The Forgotten' Project. The deeply moving collection with a serious social message, has garnered Masik her first major museum show opening this February 2011 at the MOA. With international acclaim, guest appearances at several world conferences, a feature film documentary and two books about to be published, Masik is well on her way to become one of Canada's greatest artistic treasures. Masik is also well known for her unique live performances throughout the world. Currently Masik works out of her 14,000 sq ft studio in downtown Vancouver where private collectors can view her most recent collections by appointment only. For more information on Masik, please visit www.masik.ca/index.htm
A product of prestigious New York-based developer Africa-Israel USA, Marquis Residences stands as the tallest single-loaded corridor building in Downtown Miami. In a city brimming with arts and culture, Marquis' 292 luxury condos offer proximity to sophisticated hotspots and points of interest, such as Adrienne Arsht Center for the Performing Arts, Museum Park, Miami Art Museum, Port of Miami, and American Airlines Arena. The 67-story building was designed by the internationally acclaimed architects of Arquitectonica with unparalleled 360-views of Downtown Miami, Miami Beach and Biscayne Bay – from sunset through sunrise. A 16-story lighting fixture crowns the tower, making Marquis Residences an enduring landmark of the Miami skyline. Amenities include a 14th floor sky pool deck with Asian-inspired gardens, cabanas and snack bar; state-of-the-art gym with yoga and spinning studios; signature RockResort spa with private suites; Amuse, a fine dining restaurant; Tempo Miami by RockResorts, a 56-suite boutique hotel; smart building technology and the fastest high-speed elevators south of New York. For more information, please visit www.marquis-miami.com.