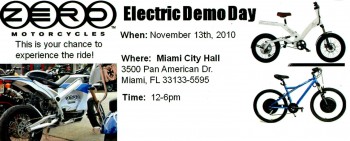 Electric Vehicle Demo Day
Saturday, November 13, Noon – 6 PM
Miami City Hall
3500 Pan American Drive, Miami
Test ride electric motorcycles and electric bicycles.
Hosted by Commissioner Marc Sarnoff, The Electric Bicycle Store, Dylectric Motorsports and BrickPig Motorsports
Zero Emissions; Zero Noise; Zero Pollution
Go Green! Just plug it in, and charge it!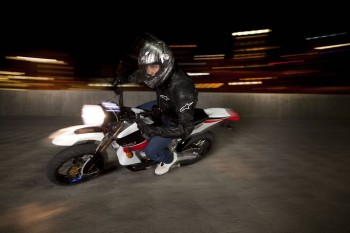 Commissioner Marc Sarnoff to Host Event at City Hall to Put the Spotlight on "Green" Electric Vehicles: Saturday, November 13
Public Invited To Test-Ride Electric Bicycles and Motorcycles
FREE TEST RIDES: Anyone age 18 or over may take a test-ride on one of the many electric bicycles or motorcycles on display. Some motorcycle models will require a valid driver's license. Zero Emissions; Zero Noise; Zero Pollution
Refreshments will be served, and we encourage those who want to learn more about electric transportation to come out and have a ride.
In conjunction with the City of Miami's ongoing programs to encourage businesses and residents to "go green."
Wildly popular in Europe and Asia, electric transportation is finally taking hold in the U.S. No longer limited to two-wheeled electric bicycles, the choices now include scooters, tricycles, folding bikes, remote-controlled skateboards and even motorcycles.
About Electric Bicycles:
§ Just plug it in and charge it! An electric bicycle has an electric helper motor powered by a rechargeable battery and a method of control to offer either totally motorized cycling or a mix of pedal and motor power, known as pedal-assist
§ Eco-Friendly, emitting zero carbon emissions and virtually noiseless. It's the perfect solution for alternative commuting.
§ Commute for miles without breaking a sweat – Ride as if the wind is always at your back
§ Health Benefits – For baby boomers who experience joint pain – especially in the knees – the "pedal-assist" of electric bicycles ease the discomfort and provide the benefits of exercise, without the pain.
§ No driver's license, no vehicle registration required, no gas, no sweat!
For those who seek the thrill of a motorcycle, the Zero provides a practical, fun and environmentally-friendly alternative – without the pollution, without the noise, without the carbon emissions.
The Zero motorcycle will produce less than 1/8 of the CO2 pollution per mile as a gas powered motorcycle. It also will produce 1/100th of smog causing nitrous oxides. With a range of 60 miles per charge, it costs about one cent per mile to operate; the gas equivalent of 455 miles per gallon.