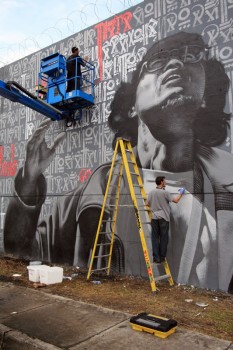 Primary Flight Opens Primary Projects space with a solo exhibition by Marquis Lewis a.k.a. RETNA
Atrium Building
4141 NE Second Avenue, Suite 104, Design District
Opening Night: Thursday, December 2, 2010, 7:00 – 10:00 p.m.
December 1 to 5 from noon to 7:00 p.m
Primary Projects is a place where artists, curators, art dealers, museums and inspired minds will be pushed to create beyond the commercial constraints typically presented by galleries or formal spaces. To launch the 4,500 square-foot space, Retna, recently featured on the cover of Juxtapoz magazine with a foreword by Jeffrey Deitch, will present a fine art solo show. His work has set a standard for the entire medium, much of which can be seen in Miami from Interstate 95 including: a 30-foot-tall man throwing his hands to the sky on the western wall of The Margulies Collection at the WAREHOUSE; a seductive blue angel gracing the corner of 37th and North Miami Avenue; and a little black boy kneeling to the ground in Wynwood, just off 24th Street and west of North Miami Avenue.
Retna returns for Primary Flight's fourth consecutive year, this time, kicking-off the collective's home-base with a solo exhibit of paintings, drawings, an installation and an entirely new body of work specific to this occasion. The opening reception is slated for Thursday, December 2 at 7:00 p.m. Primary Projects will welcome visitors December 1 to 5 from noon to 7:00 p.m. daily, and from 10:00 a.m. to 5:00 p.m. during regular season. For more information visit www.primaryflight.com.
To navigate the December fair extravaganza, a visitor need only look to the streets, where for the past three years Primary Flight has produced murals by hundreds of renowned artists. Culminating in the largest curated street mural project in the world, the collective is now expanding beyond their Wynwood origins to launch their first-ever headquarters in the Design District. An interactive circus at Cafeina, CPOP Gallery's Contra initiative and partnerships with Fountainhead Residency, Metro 1 Properties, Montana Spraypaint and more ground Primary Flight's 2010 program as the most accessible and ambitious yet.
"This year is about growth: Miami is set in motion, and Primary Flight paved the way," said Books IIII Bischof, principal of Primary Flight. "Since our involvement, Wynwood has become a street art Mecca with legs of its own. It's time for Primary Flight to grow in new directions, and we always take cue from our ever-changing culture."