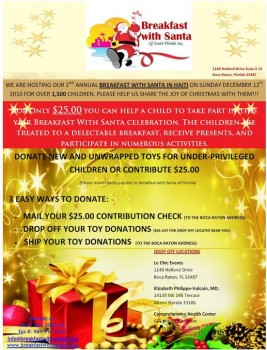 BREAKFAST WITH SANTA, A LABOR OF LOVE!!!
Founded in 2007 by a group of friends and colleagues who wanted to make a difference in the community, and share the joy of Christmas with underprivileged children from Little Haiti and the surrounding Miami areas.
Each year we host the Annual Breakfast With Santa for over 300 children. The event is held at the JW Marriott in Miami for children ranging from 5 to 12 years old. They gather for a delectable Breakfast With Santa and his Elves. In addition to the delicious meal, each child receives a new toy, takes souvenir pictures with Santa, and many other activities. With the help of some wonderful friends, the JW Marriott Hotel, Halo (Haitian Leaders Organization), the Haitian Chamber of Commerce of Florida, Comprehensive Health Center, Stanley I Foofman, CPA, New Health Care Corp and Le Chic Events Design and Production; we are able to make the holidays memorable for these well-deserving Children.
In 2009 we extended the program to Haiti, hosting the First Annual Breakfast With Santa for over 600 children at the St Michel Episcopal School in Thomazeau, Haiti.
Thank you for using Soul Of Miami!