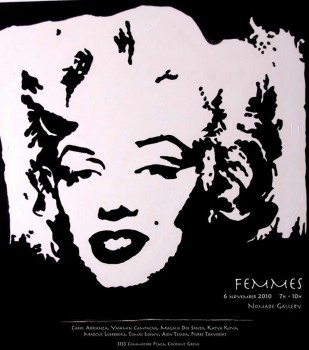 Nomade Gallery Flirts with the Eternally Feminine
Femmes: an Art Exhibit
South 27 Lofts Launch Party
Saturday November 6, 2010. 7 – 10p
Nomade Gallery, 3133 Commodore Plaza, Coconut Grove, FL 33133
South 27 Lofts, 3001 SW 27 Ave, Coconut Grove, FL 33133
Wine & Hors D'oeuvres from George's in the Grove
Nomade Gallery will be full to the brim with art by and about women during the month of November; women portrayed on canvases, photographs, women made of bronze, all created by the deft brushstrokes, portraits and chisels of artists who have put form to arguably the hardest of all beauties to capture. Nomade flirts with the eternally feminine and in the process opens discourse of gender identity, its social and political definitions, and reaches beyond them to present an exhibit that puts a face to what it means to be a woman. The artists explore classical beauties from pop-culture past and portraits drawn from the media age that define femininity today.
At the same time, "Femmes" aims to deconstruct the image of what it means to be a woman, unravelling the ironic standards and tight conventions by which women are portrayed. Each artist has developed their own images that postulate new forms of female representation, producing works which are at times tantalizing, at others subtle and compelling.
The "Femmes" exhibition features contemporary artists such as Miami's German grinning photographer and artist Tomas Loewy, and photographers Katya Kova, Dominican born Aida Tejada, and Marcus Loerbroks; painters Yashmin Campagne from Trinidad, Carol Adrianza from Venezuela, and Magalie Dos Santos from France; and French sculptors Catherine Bon and Pierre Traversat.
Nomade Gallery has also lent a few of its artists to the South 27 Loft's grand opening the same evening. South 27 Loft's launch party will take place Saturday November 6, from 7-10 pm at 3001 SW 27 Ave, Coconut Grove. The photographs of Aida Tejada and sculptures of Pierre Traversat will adorn the lofts during this evening of art, hors d'oeuvres and architecture. The lofts will be available to preview and is open to the public.
Nomade Gallery is one of 10 galleries that participate in Coconut Grove's Art Walk that takes place the first Saturday of each month. Nomade Gallery is Coconut Grove's newest gallery on the block which was opened by esteemed French art enthusiast Brigitte Serfaty this past February. Miami's original art's community comes together during this weekend to enjoy art, music and entertainment.
ARTISTS: 1) Carol Adrianza, Yashmin Campagne, Magalie Dos Santo, Katya Kova, Marcus Loerbroks, Tomas Loewy, Aida Tejada, Pierre Traversat
2) Aida Tejada, Pierre Traversat and guest sculptor Zammy Migdal
For more information on Nomade, South 27 Lofts and the artists, please visit their websites:
Nomade Gallery: wwww.NomadeArts.com
South 27 Lofts: http://south27.com