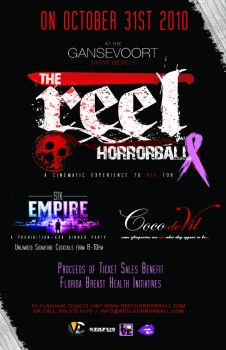 The Reel Horror Ball Haunts The Gansevoort This Halloween
Sunday, October 31st at 8:00 p.m.
The Reel Horror Ball premieres at The Gansevoort Hotel in Miami Beach on Sunday, October 31st 2010. The sequel begins at 8:00 p.m. and lasts into the dead of night. The Gansevoort will be transformed into three acts and guests will have access to the three venues with the purchase of one all access pass for $20.
After rave reviews of The Reel Horror Ball in 2009, Vitamin C Communications has produced a sequel that guarantees to be a cinematic event that is truly to die for.
Begin your night surrounded by sweeping views of the Atlantic Ocean as you indulge in complimentary signature cocktails until 10 p.m. on The Rooftop of The Gansevoort. This cinematic delight has a philanthropic plot. In honor of Breast Cancer Awareness Month, proceeds of ticket sales will benefit The Florida Breast Health Initiative.
Calling all Flappers! If are more of a fan of the prohibition era, without the prohibition, STK will enchant you as it channels the glitz and glamour of the Jazz Age. Enjoy dinner and drinks to the thrilling sounds of DJ Obscene at their 1920' s themed dinner party, STK Empire.
If you survive until the finale and are feeling a little sinful, saunter into CocoDeVil for their devilish after party. DJ Derick Walin will provide a wicked soundtrack for devils and angels alike until the credits roll.
Tickets and Information:
To purchase tickets at the special advanced price of $20.00, which provides access to all four venues, please visit: http://www.wantickets.com/reelhorrorball
Tickets will be available at the door with prices subject to change.
For an enticing preview, or for more information, please visit www.reelhorrorball.com
Breast cancer takes the lives of over 40,000 women annually. Founded in 2006 by Andrea Ivory, The Florida Breast Health Initiative (FBHI) is a non-profit outreach organization dedicated to educating women on breast health, as well as providing uninsured women with mammograms and breast cancer treatment.
To learn more about this organization, or to make a direct donation, please visit: www.flbreasthealth.com