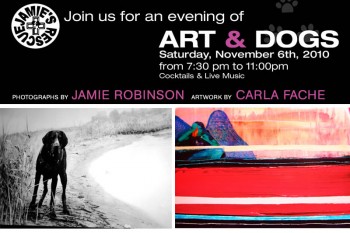 Amy Alonso Gallery is pleased to present:
Dogs Charity Event-Art & Live Music
Pet Friendly!
Saturday November 6, 7:30-11:00pm
No Cover
Cocktails by Pinnacle Vodka and The State Of live @ 8 P.M.
& @ 10 P.M. – Madame Turk – will DJ the night away!!!
Thousands of Dollars in Raffles on SIte
The Exhibition:
"Art & Dogs" – Art Exhibition by 80's Icon photographer Jamie Robinson and Abstract Artist Carla Fache.
Participate in this fundraising raffle in benefit of the animal shelter "Jamie's Rescue". and you could win a lot of exciting prices, among them, a Carla Fache's painting whom has donated one of her art pieces to support this cause.
Jamie Robinson graduated Antioch College in 1974. She then went on to become the first female videographer for CBS where she covered the White House during the Carter Administration. Traveling extensively with the President and his family on Air Force One.
Jamie moved to the Chelsea Hotel in NYC in the late 70's & worked for ABC shooting news & documentary features. She continued to pursue her artistic inclinations & while living in the Chelsea Hotel she befriended a dominatrix names Fushia, together they collaborated on a series of photographs of men in bondage.
Jamie's work was has been exhibited worldwide & in the 80's Jamie was a big part of the SOHO photo gallery. She had numerous award winning photography exhibitions shows during the early 80's. fellow artist like Andy Warhol & Jean-Michel Basquiat.
Carla has developed her own language in painting, throughout the combination of color, textures, angles, energy and soul. Her work addresses mind, heart and the invisible to the senses through a lens of continuous vibrations exchange. Fache has been pouring her soul prolifically on canvas ever since and invites the viewer to enjoy the experience, feel the energy and see the beauty.
"…My imagination travels to non-existing dimensions that I best describe through a process of layering. When I paint, I feel as if I am hypnotized by colors and textures, all of which will create soft, thin layers that hide or reveal a mark of an unspoken feeling, emotion, or thought…"-Carla Fache
Jamie's Rescue is a 501(c)3 that has placed hundreds of rescued, abused and neglected dogs. Bring your doggy and give back to the animals! www.jamiesrescue.com