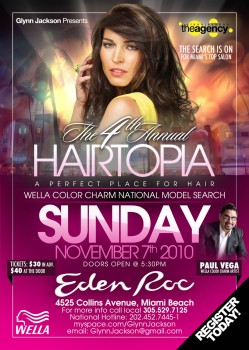 Glynn Jackson "The Agency" Proudly Presents The Return of "HairTopia" Miami
November 07, 2010
Doors open at 5:30 PM
Show starts promptly at 6:30 PM.
Eden Roc Renaissance, 4524 Collins Ave, Miami Beach, FL 33140.
Tickets are on-sale now for $40 advance purchases.
"One Night, One Cause, One Experience."–The official tagline for the 4th Annual Wella Color Charm National Model Search also known as, HairTopia: A Perfect Place For Hair.
This year's show aims to bridge the cultural divide in S. Florida's diversified market while paying homage to beauty from around the globe.
"This is a celebration for local women in the hair and modeling industry because without a doubt there is everlasting beauty and opportunities that go unnoticed and we hope to continue making a difference in our neighboring communities," said Glynn Jackson, CEO and founder of "The Agency", which is responsible for producing the show.
A segment of the show features live presentations by local beauty salons and cosmetic providers that will release the latest trends of the market for consumer review and awareness; this provides long-lasting personal and business relationship building amongst local manufacturers, distributers, and their consumers.
The most anticipated part of the show is the elaborate community-driven, runway competition which is action-packed and allows participating models the chance to "walk into their greatness".-Glynn Jackson
This year's winning model will go home with $2,500 in cash and prizes including one-year representation by Glynn Jackson "The Agency".
Model castings are currently being at the Downtown Courtyard Marriot on September 25th, 2010; October 2nd, 2010; October 9th, 2010 and also, Sunday October 17th, 2010 and October 23rd, 2010 at 1pm.
"We have beautiful women with amazing energy that will definitely bring excitement to the show this year. I also encourage any models or aspiring models to come out to the casting and take advantage of this opportunity of a lifetime," Jackson goes on to say.
The event takes place on November 07, 2010, live from the Eden Roc Renaissance, 4524 Collins Ave, Miami Beach, FL 33140. Doors open at 5:30 PM to allow networking before the feature begins and the show will start promptly at 6:30 PM.
Headliner, Paul Vega, will be in attendance and available for live interviews and photo opportunities with a special performance by explosive Raggaeton artist Dainamite.
Also DC Fashion Week's very own comes Ean Williams and Corjor International will be making a special presentation on the main stage.
Recent reviews by the South Florida Times names HairTopia "The largest hairshow to take Miami by storm."
Parking for the event will be available at the city parking lot, Eden Roc Renaissance, and additonally, The Fountaine Bleau Miami Beach.
For more information call (305) 529-7125 or e-mail Glynn directly at GLYNNJACKSON@GMAIL.COM
Wella USA is one of the leading international beauty suppliers in the world. Founded in 1931 in New York City, Wella USA has developed a reputation for providing quality hair products including Color Charm Permanent hair color. For more information about Wella USA visit www.wellausa.com.
Glynn Jackson the Agency has produced hair and fashion shows for over 20 years all over the world including its signature show – the Golden Scissors Awards. Founded and owned my icon Glynn Jackson, Glynn Jackson the Agency is known for its dynamic and elaborate productions. A show produced and stage by this agency is never a dull one. For more information about Glynn Jackson the Agency check out Glynn Jackson on Facebook under "Glynn Jackson."
As a producer, Dainamite has worked within and incorporated all subgenres: bachateo and salsaton, malianteo and Cubaton, romantikeo and cumbiaton. As an artist, he has a sound that perhaps most closely aligns with either salsaton or malianteo, two strains that, respectively, fall mostly on the sides of salsa and hip-hop. Dainamite is a native of Julio Santiago in Ponce, Puerto Rico but now resides in S. Florida. He is a rising icon in the Hispanic community with hopes of being heard.