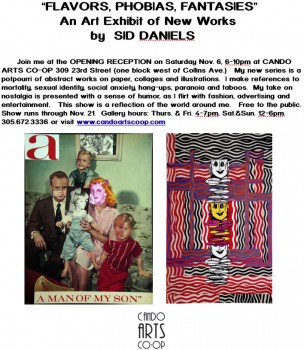 CANDO ARTS CO-OP
309 23rd Street
(One block west of Collins Ave.)
Miami Beach.
Opening reception: Saturday Nov. 6, 6-10pm.
Join artist Sid Daniels at the opening reception, Saturday, November 6 from 6-10pm at CANDO Arts Co-op. The show is entitled, FLAVORS, PHOBIAS, FANTASIES…AN ART EXHIBIT OF NEW WORK. This series is a potpourri of abstract works on paper, collages and illustrations that reference mortality, sexual identity and social hang-ups. Sid's work incorporates nostalgia as he flirts with fashion, advertisting and entertainment. The show runs through November 21.
"FLAVORS, PHOBIAS, FANTASIES" An art exhibit of new works on paper, collage, and illustration by the artist, SID DANIELS. This series explores the artist's perception of the world around him, making references to social identity, mortality, social anxiety, paranoia and taboos in our society. His take on nostalgia is presented with a sense of humor, as he flirts with fashion , advertising and entertainment. Also included is a new series of abstract works on paper. Free to the public. Show runs through Nov. 21. Gallery hours: Thurs. & Fri. 4-7pm, Sat. & Sun. 12-6pm. www.candoartscoop.com