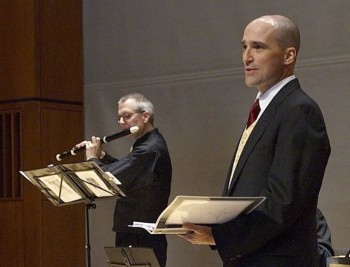 The Miami Bach Society Presents Arcanum, Miami's Own Early Music Ensemble
Sunday, November 28th, 2010, at 4:00 p.m.
Temple Emmanuel, 1701 Washington Avenue, Miami Beach
On Sunday, November 28th, 2010, at 4:00 p.m. the Miami Bach Society will present the Baroque Ensemble Arcanum. This will be the third of its annual season performances and the premier of Miami's own early music group. It will be held at Temple Emmanuel, 1701 Washington Avenue on Miami Beach.
The concert will be led by co-directors Tony Boutté (tenor) and Colin St. Martin (baroque flute), and will also feature Robert Heath (harpsichord), June Huang (violin), and Annalisa Pappano (viola da gamba). Boutee is professor of voice at the Frost School of Music at the University of Miami. St. Martin teaches at the Peabody Conservatory of Music in Baltimore.
They will be performing works of the French Baroque Era. entitled, L'Eau de Vie: Intoxicating Music of the French Baroque and will feature vocal music in praise of coffee and drink, including what is believed to be the Florida premier of Nicolas Bernier's coffee cantata (Le Caffé). Also featured will be charming chamber music by Rameau, Léclair and Blavet.
Tickets for the performance are $30 general admission, $40 preferred admission. ($5 more at the door). Students up to the age of 18 are admitted free of charge. College and graduate students pay $5. For tickets and information call 305-669-1376 or visit www.miamibachsociety.org
The Miami Bach Society is the area's principal organization performing and presenting classical music written before 1800. The Bach Society is sponsored in part by the generous donations of the City of Coral Gables, the Miami-Dade Department of Cultural Affairs, the Tourism Development Council and the Board of County Commissioners, the State of Florida, Division of Cultural Affairs, the Federal; Republic of Germany, American Airlines, Classical South Florida, 89.7 F.M., WLRN, the Dunspaugh Dalton Foundation, the Miami Herald, Bell South, Bill Ussery Motors, FPL, the Biltmore Hotel, Waste Management, the John S. and James L. Knight Foundation, the Lady Suzanna P. and Carlton Tweed Foundation, as well as its many other generous supporters and friends.