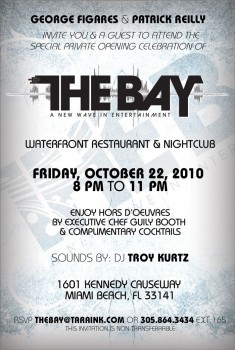 The Bay Brings New Wave Of Entertainment To Miami Beach
Waterfront restaurant & gay-friendly nightclub celebrates unveiling with private reception
Friday, October 22, 2010, 8 PM to 11 PM
1601 J.F.K. Causeway in Miami Beach
The Bay, a new North Beach restaurant and gay-friendly nightclub, will celebrate its debut with a private cocktail reception on Friday, October 22, 2010, 8 PM to 11 PM, along with event sponsor Florida Equality and featuring music by DJ Troy Kurtz. The indoor/outdoor space by industry veterans Patrick Reilly and George Figares is nestled against the waters of Biscayne Bay at 1601 J.F.K. Causeway in Miami Beach.
The 26,000-square-foot venue boasts a grandiose red-brick entranceway leading up to double-doors rescued from a vintage train car, a gunmetal-polished concrete floor interior, a wine room equipped to house over 1,000 bottles, four bars, an expansive waterfront terrace, and a state-of-the-art kitchen under the helm of 2010 Miami-breakout chef Guily Booth. The Bay will splash a new twist on the Causeway social scene by providing a friendly neighborhood ambiance that caters to the most cost-conscious clientele and offers unique fare and hand-crafted cocktails.
Executive Chef Guily Booth classifies The Bay's fare as "Americana with a twist." Her signature jumbo lump crab meat dish takes on a new spin, now served on a bed of arugula, tomato and fried capers. Additional offerings include: Pulled Pork Sliders ($7); Bacon-Wrapped Stuffed Dates ($8) served with manchego cheese and a hint of Indian spices; and the New England Lobster Roll ($18), Maine lobster meat poached in butter and served on a grilled hot dog bun.
Co-owner Patrick Reilly (formerly of Paragon, now known as Mansion) seeks to bring excitement to the causeway middle-ground between Biscayne Boulevard and Collins Avenue. The Bay's eclectic weekly lineup includes: Monday – College Night; Tuesday – 2-4-1 Drinks & Dinner; Wednesday – Studio Filthy Whore; Thursday – Latin Night; Friday – Pop Rocks; Saturday – House Night; and Sunday – Tea-Dance Party. Go-Go boys, drag hosts and Twister contests can also be expected. Reilly says "We are not trying to reinvent the Miami Beach club scene wheel; we are merely taking the best elements of the wheel and bringing them back."
As a staple DJ figure of eight years in Miami's gay-club circuit (Score; Twist), co-owner George Figares will use his ear for blending beats to book leading DJs of all orientations. National and local notables directing The Bay's musical score include Eddie Baez, Smeejay and Bryan Zero. Figares says "We want to bring something fresh to South Florida's gay community by taking the most attractive elements of Miami's nightlife and setting them in a comfortable and engaging environment.
To RSVP for The Bay's private opening reception, please email thebay@taraink.com.
About The Bay
The Bay is a 26,000-square-foot waterfront venue providing the best in entertainment and affordable cuisine, marketed but not limited to the gay demographic. Valet and self parking are available. For more information, please call 305.866.1234 or visit www.thebaymiami.com.