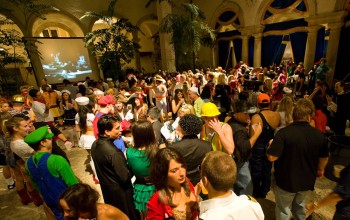 The Vizcayans To Host Annual Halloween Bash Saturday, October 30th
Rocks Historic Mansion And Grounds At Vizcaya Museum And Gardens
Saturday, October 30 from 8 pm to midnight
3251 South Miami Avenue, Miami, 33129
www.vizcayahalloween.com
The Vizcayans, a non-profit that engages in the preservation and advancement of stately Vizcaya Museum & Gardens, 3251 South Miami Avenue, Miami, 33129, vow that headless waiters will replace heads-of-state when they hold their 24th annual Halloween fundraiser, Saturday, October 30 from 8 pm to midnight. The historic site regularly hosts dignitaries, captains of commerce, bridal parties and thousands of visitors who delight in touring South Florida's only nationally accredited landmark. But on one night this year—Halloween eve– dead Presidents, sexy schoolgirls and naughty nurses, along with 2000 other costumed celebrants, will take over the mansion and grounds…and with good cause!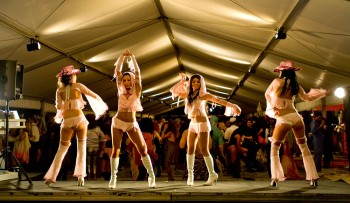 That's when The Vizcayans Young Professionals turn the famed house into South Florida's most spirited party site with their annual Halloween Bash, the 24th consecutive iconic fall fundraiser to support the preservation of Vizcaya. The $125 advance ticket price (member discount available) includes open super-premium bar, music from dual DJs, two dance floors, Halloween costume contest, food court and access to the estate's outdoor terraces, Italian Renaissance-inspired gardens, yacht harbor, and Mediterranean revival-styled Mansion. Funds raised benefit the 501 (c) (3) group, which engages in protecting and preserving the nearly 100-year-old treasure.
Always a sold-out event, the Halloween Happening is a favorite on the South Florida social scene, attracting taste-makers from the tri-county area and beyond. Guests are greeted by lavish decorations, French maids and zombie butlers and from there the party spins into a kaleidoscope of creativity, fantasy and fun. The Costume Contest winner will be treated to a 4-day, 3-night stay at the Ritz Carlton Grand Cayman, round trip flight for 2 on Cayman Airways and even a Stingray City Tour!
This year's Halloween Sundowner sets another trend—"by going green." Event Chair and local attorney Karl Klein explains that "by incorporating recycling practices into the fundraiser, the Vizcayans Young Professionals further align with Vizcaya's mission of conservancy."
Partners, including Ford Motor Company's Operation Goodwill, South Florida Lincoln Dealers, Patrón Spirits, Stella Artois Lager, Cayman Islands and smartwater, contribute to the night's monster success.
For more information, member discounts and tickets, phone 305-856-4866 or visit www.vizcayahalloween.com.
Built by famed agricultural industrialist James Deering in 1916, Vizcaya exemplifies the American Renaissance, combining older European cultural values with the social, material, and environmental context of modern Miami. The 50-acre property consists of a main house, featuring 34 decorated rooms that showcase nearly 3,000 art objects and furnishings spanning two millennium, 10 acres of formal gardens, an historic farm village currently in restoration and the estate's natural areas, including the environmentally sensitive native hardwood hammock, mangroves, and waterfront.
Vizcaya plays a vital role as a diplomatic seat of government for Miami-Dade County, hosting renowned figures, like Queen Elizabeth II, Pope John Paul II, President Ronald Regan and King Juan Carlos I and Queen Sofia of Spain, and global events like the Summit of the Americas, the signing of the Free Trade Agreement, Art Basel activities and the 2009 International Women's Conference.
About the Vizcayans: The Vizcayans, Inc. a 501(c) (3) organization formed in the State of Florida, engages in the preservation and advancement of Vizcaya Museum and Gardens as an accredited museum and a National Historic Landmark through financial support, advocacy and other activities. The Vizcayans Corporation is the private sector partner to the public sector Vizcaya Museum and Gardens Trust and works cooperatively and collaboratively with the Trust to advance the mission of Vizcaya.