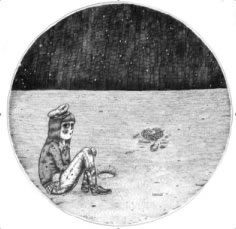 Calix Gustav Gallery
98 NW 29 St.
Miami, FL 33127
Saturday October 9, 2010 from 7:00 PM to 9:00 PM
Calix Gustav Gallery is pleased to present its current exhibition mörker, taking place this Saturday during Wynwood's Second Saturday Art Walk.
Set in a magical and mysterious Scandinavian forest inhabited by eerie mystical characters intricately depicted in charcoal and ink drawings by Swedish artist Johan Björkegren. The longing for comfort is not lost in the innocence of a child and the warm love of a mother. Artists Ingrid Eliasson and Jennifer Basile bring a calming effect from this lurid fantasy with the detailed structured graphite drawings, juxtaposed over the rich biomorphic backgrounds. The feeling of a "cozy home" is amplified by the crocheted fiber tapestries.
We are introducing the new CG Boutique, a smaller gallery intended for the younger art collector. The first featured artist will be Birds Are Nice.
Birds Are Nice is a visual artists and graphic designer working in the Miami area. The decision to work anonymously as Birds Are Nice came from the artist wanting to have fun and make happy, urban work that references pop culture along with the comic and cartoon genres. Formally trained at a university, BAN considers them-self a self-taught artist as most of the materials and techniques used in the current work are not what was learned in school.
Taking inspiration from the graffiti artists of our time, such as Word to Mother, Know Hope, and countless others, Birds Are Nice wishes to get the work out in the general public. There are many traveling outdoor projects currently in the works. BAN feels the art world takes themselves very seriously. Low brow vs. high brow, street art vs. gallery art? Art is art and Birds Are Nice wants people to stumble upon the work and have a moment of laughter.
Birds Are Nice uses illustration, digital mediums, sculpture, animation and video.
Mörker will run from September 11, 2010 through November 19, 2010. Regular gallery visiting hours are from Tuesday to Saturday from 12 p.m. to 5 p.m. For more information visit www.calixgustav.com.