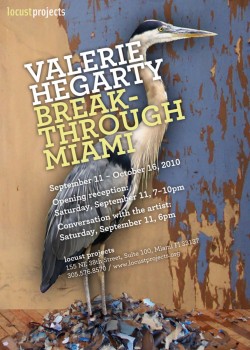 Valerie Hegarty
Break-Through Miami
Reception: Saturday, October 9, 7-10pm
Locust Projects, Inc, 155 NE 38th Street Suite 100 Miami, Fl 33137
Through October 16, 2010
Locust Projects is pleased to present a site-specific installation by New York-based artist Valerie Hegarty. Hegarty's practice often involves processes of recreation, deconstruction, and transformation. Inspired by the history of the sublime landscape painting, Break-Through Miami transforms the 2,700 square foot exhibition space into a site where architecture and nature collide. Hegarty adheres layers of painted paper to the walls and floor of the gallery, only to peel them back in a technique she describes as "reverse archeology."
Using paper-mache, photography and trompe l'oeil painting techniques, Hegarty creates the impression that the gallery walls have been stripped, revealing an old Miami building interior. Illusionary holes in the space create fabricated portals to the exterior environment where wildlife appears to creep in and new views to the Miami shoreline are discovered. The work shares a visual affinity to the work of Gordon Matta-Clark, who famously removed sections of floors, ceilings, and walls in abandoned buildings. Instead of the heroic gesture of actually breaking through the architecture with a saw and sledge hammer, Hegarty cleverly alludes to the physicality of this process with fragile materials such as foamcore, paper, paint and glue. The gallery is transformed into a quasi-abandoned space, but is in effect a deconstructed still-life painting.
The artist utilizes the existing architecture of the gallery to create the illusion of an environment under transition or altogether forgotten. The result is a collapse of exterior and interior that questions the stability of the space. The viewer is left to ponder the gallery's altered interior and the veracity of the transformation.
Valerie Hegarty studied at The School of the Art Institute of Chicago, IL. Hegarty is the recipient of numerous prestigious awards including a 2010 Pollock Krasner award and a 2009 New York Foundation for the Arts Fellowship in Sculpture. She was recently awarded a residency at the Triangle Arts Association in New York for 2010-11. The artist's work is currently on view as part of a public art commission on the High Line, NY and at Portugal Arte 10 in Lisbon. Recent exhibitions include Nicelle Beauchene Gallery, NY; Marlborough Gallery, NY; Kings County Biennial, NY; and New York Minute at the Depart Foundation, Rome, Italy. Hegarty is represented by Nicelle Beauchene Gallery in New York and Museum 52 in London.