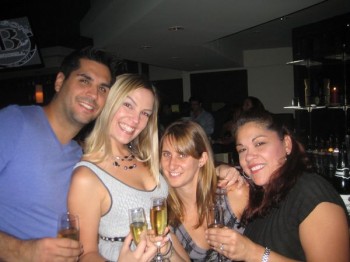 Bodegon de Brickell
801 Brickell Bay Drive
Miami, FL
bodegonbrickell.com
By Talmage Thornhill
This gringa doesn't even know how to properly pronounce the word "bodegon," but that didn't stop her from getting into the groove at Bodegon de Brickell last weekend at its sneak preview.
Located inside the  Four Ambassadors Building at 801 Brickell Bay Dr., the new hot spot transcends categories. Start with an amazing restaurant, add a healthy pinch of nightclub, glaze with some swanky lounge, and you just might have it. More practically, the place is neither small nor big, but is very open. Tiered levels with tables into the back of the space lend both privacy and focus to the dance floor,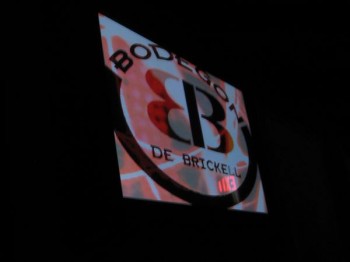 DJ booth, and stage down below. An impressive array of lighting and digital media keep you interested while the ample seating allows for maximum comfort.
For me and my crew of two others, the night felt effortless. I took my first try at dancing Salsa since my Padawan days in Miami, when I regretfully worked at an unspeakably tacky South Beach staple for longer than I'd like to admit (cough *Mango's* cough). Alas, I had the basic 1-2-3 of salsa down, and turns out that rhythm is incredulously stubborn. With either  a sexy Cuban or confident Venezuelan as a partner, I was able to keep up.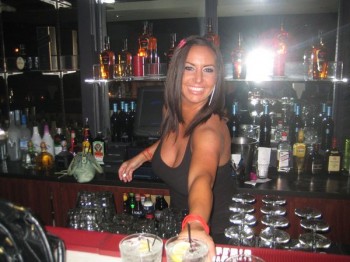 While the band kept me moving, the bartender kept me sipping. A stiff cocktail or two, a generous sampling of the restaurant's best dishes, and even complimentary champagne brought Bodegon de Brickell to that place all resto/lounges want to be: memorable. It's easy to let one little thing or another slide in the hectic world of hospitality, but Bodegon understands it has stiff competition and is up for the challenge. We ended the night eager to discover what more fun there was in store.
bodegonbrickell.com will have details on events, including happy hour, nights catering to the Salsa and Merengue loving crowd with a live band, and local DJ talent brought to rip up the decks with everything from house to hip-hop. In the meantime, check out the grand opening this Friday night at 9:00 PM to take your taste of Bodegon de Brickell.