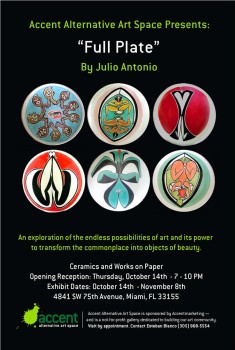 Accent Alternative Art Space to serve Miami a "Full Plate"
Accentmarketing's project space launches its sequel exhibit featuring the work of Miami artist Julio Antonio
Thursday, October 14th, opening reception from 7 to 10 p.m.
4841 SW 75th Avenue Miami, Florida 33155
Exhibit Dates: October 14th to November 8th
Thursday, October 14th Accent Alternative Art Space debuts "Full Plate", with an opening reception from 7 to 10 p.m. Miami artist Julio Antonio will exhibit 100 ceramic plates and works on paper. Exquisite symmetrical patterns grace these ceramics, making the collection an extraordinary production inspired on the island of Cuba, the human figure and various animal forms.
Accent Alternative Art Space's premiere exhibit, "Killing and Salting", had an extraordinary turnout its opening night and showcased the work of emerging young artists. (See photos here.) "Full Plate" hopes to continue this momentum and carry on its non-profit's mission to develop ideas that are outside the mainstream scope of Miami's commercial art galleries, while harnessing local talent and culture. Julio Antonio's distinct style falls within the scope of alternative expression that Accent Alternative Art Space strives to highlight within the community, and his work is profoundly shaped by the idea of exploring the endless possibilities to transform the commonplace into objects of beauty.
"The sheer vibrancy of this collection is testimony to the creative drive of a master craftsman in full command of his art," said Esteban Blanco, founder of the non-profit gallery. "It is a dazzling demonstration of how to make the extraordinary seem easy.
Cuban-born artist Julio Antonio is a graduate of the Instituto Superior de Arte and the San Alejandro Academy of Fine Arts, Cuba. Considered a keystone integrant of the exile artist community, Julio Antonio taught many of the prominent exiled artists while a professor of Art in Havana. His work is included in the Whitney Museum of American Art and the Museo de Arte Contemporaneo of Malaga, Spain, among many others. Some monotypes of the same series shown in the exhibition are part of the collection of the McArthur Foundation.
Coral-Gables based Accentmarketing continues to support its non-profit passion project by contributing the energy and creativity of its talented staff. Each gallery show is a collective effort on behalf of the agency, whose team has demonstratedtheir ardor for freethinking expression within the community in areas such as painting, graphic design, creative writing and music.
Accent Alternative Art Space continues to showcase all forms of art. Local artists are welcome to become fans of its Facebook page and begin an artistic discussion on Miami's alternative art scene by posting their art and vision on facebook.com/accentART Additionally, artists who post their work may qualify to have their pieces featured in the gallery.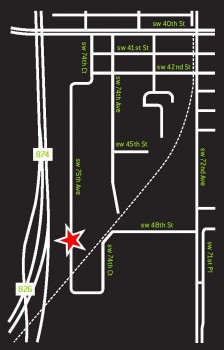 A truly inspiring group dedicated to the idea that art can transform a community, Accentmarketing is committed to furthering Miami's artistic culture by giving the heart and soul of the community's creative scene a chance to make their work known.
Accent Alternative Art Space is located at 4841 SW 75th Avenue Miami, Florida 33155 and open only by appointment.
Accent Alternative Art Space is a not-for-profit art initiative by advertising agency Accentmarketing. This creative piece of real estate launched in 2010 is dedicated to non-commercially driven artwork by emerging and mid-career artists. Essentially, AAAS wants to develop ideas that are outside of the mainstream scope of Miami commercial art galleries while harnessing local talent and culture. To learn more about the not-for-profit art gallery visit www.facebook.com/accentart
About Accentmarketing (www.accentmarketing.com)
Established in 1994, Accentmarketing is a full-service Hispanic marketing communications agency with offices in Miami, Los Angeles and Detroit. A certified minority owned business and member of The Interpublic Group of Companies, Accentmarketing employs a multinational and multicultural staff. The agency's client partners include the American Heart Association, Dunkin Donuts, Farmers Insurance, GobiernoUSA.gov, Chevrolet, the California Association of Realtors, Kaiser Permanente, Brown-Forman and the U.S. Navy.
For more information on the artist visit www.julioantonio.com