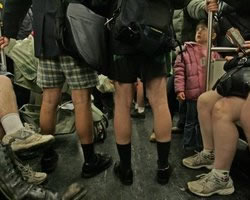 The legendary 'Pisco Bus' celebrates its one year anniversary on September 30th: wearing pants, optional.
Gran Sierpe Pisco, Yelp and the Miami Rescue Mission have formed an invigorating partnership on this venture.
September 30, 2010 from 6pm – 10:30pm
The route will begin at Cafeina and continue on to The Tides, and two other South Florida locations.
Cost FREE!
More Info
What if we told you that all this excitement was over a very conventional yet ominous figure of years passed? Would you be surprised to find out that all the fuss is over a mere school bus? Now thanks to Gran Sierpe Pisco, school buses have earned a new place in our hearts. No longer will these means of transportation be identified with boring classes and short lunch breaks, instead they will forever be synonymous with one word: party.
This month, the Gran Sierpe Pisco Bus is celebrating its one-year anniversary! A popular fixture on the Miami party scene, the beloved "Pisco Bus" has been summoned by international and local fans alike! On September 30th the coveted Miami experience is back again to transport passengers to the best venues in town to sample distinctive Gran Sierpe cocktails!
This time, instead of the traditional yellow transportation, the primary vehicle will be a repurposed school bus (So Flo Bus Tours has supplied the transport). Befitting to the experience the bus has been completely gutted to accommodate wraparound seating, numerous tables, and a complete stereo and light system. To commemorate this grandiose affair, the night's festivities will culminate in an open celebration of the bus's one year at the celebrated Cafeina (297 northwest 23rd street.)
Giving Back In honor of the one-year anniversary, Gran Sierpe has decided to contribute to a greater cause. Gran Sierpe will be asking all males to donate their pants to the Miami Rescue Mission, making this month's festivities a bottoms-optional occasion. The non-profit organization for the homeless has recently expressed its urgent need for this male attire, inspiring the philanthropic theme for the evening.
Blurring the line between old and new, Pisco, the three-century-old Peruvian liquor, is currently making a comeback nationwide. Artisan Brands, a family owned manufacturer and distributor of hand crafted, high-end spirits, has successfully launched Gran Sierpe Pisco, a zesty premium spirit that promises to bring back the art of cocktailing. Gran Sierpe will lead the American rebirth of the grape brandy and has already been named the #1 exporter of Peruvian Pisco. The brand has received numerous awards including: "Best in Class" in the category at both The New York Spirits Awards and the International Wine and Spirit Competition and received a gold medal at the 2010 SIP Awards. Gran Sierpe first took a bite out of Miami, FL and is making its way to national fame beginning with CA, TX, NY, IL, DC, MD, DE, GA, TN, KY, LA and NH.
Miami Rescue Mission, Inc. is a tax-exempt, charitable non-profit organization
that has provided human services to the homeless and needy of metropolitan
Miami since 1922. The mission is to transform lives of homeless men, women and children through comprehensive residential programs to effect lasting change and empower them to be productive members of society. We provide food, shelter, substance abuse treatment, education, computer literacy, job placement, healthcare, spiritual development and housing.