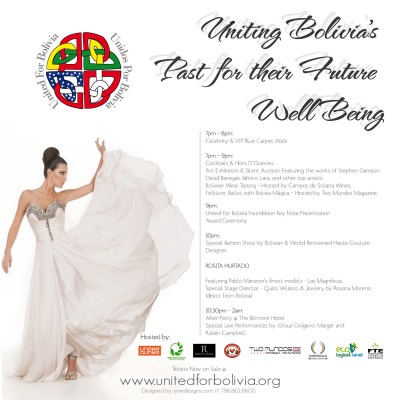 UNITED FOR BOLIVIA (Fundraising Event)
October 7, 2010, 7pm to 2am
The Biltmore Hotel
1200 Anastasia Ave
Coral Gables, FL
PROGRAM OF THE EVENT:
7pm to 8pm:
– Celebrity & VIP Blue Carpet Walk
7pm to 9pm:
– Cocktails and Hors d'oeuvres
– Art exhibition and Silent Auction featuring the works of Stephen Gamson, David Banegas, Fabricio Lara and other top artists.
– Bolivian Wine tasting hosted by Campos de Solana Wines
– Folkloric Ballet with Bolivia Magica hosted by Two Mundos Magazine
9pm to 10pm:
– United for Bolivia Foundation Key note Presentation
– Award ceremony
10pm to 10.30pm:
– Special Fashion Show by Bolivian and world reknown Haute Couture Designer Rosita Hurtado featuring Pablo Manzoni's finest models "Las Magnificas", special stage director Quito Velasco and Jewelry by Roxana Moreno.
10.30pm to 2am:
After Party at the Biltmore with special live performances from Ruben Campbell, Oxigeno and Marger.
PRICE: 150$ per person.
SPONSORSHIP OPTIONS:
– Bronze: 1.500$
– Silver: 2.500$
– Gold: 5.000$
– Diamond: 10.000$
TICKETS AVAILABLE NOW! CALL ME AT 3057732013.
Ruben Campbell.
www.unitedforbolivia.org