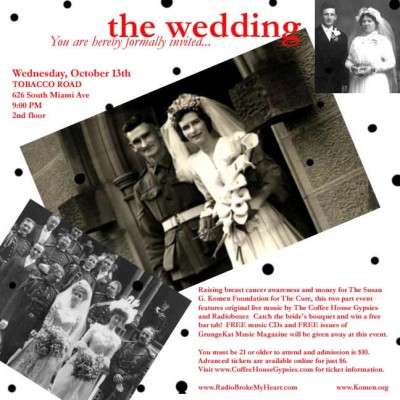 Coffee House Gypsies: The Wedding
Wednesday, October 13th @ 9:00 PM (doors open @ 8:30)
Tobacco Road – 626 South Miami Ave (2nd floor)
This event will raise money for breast cancer research/The Susan G. Komen Foundation
Wedding reception follows the wedding ceremony (reception live music by: RADIOBOXER)
Must be 21 + / Admission is $10 at the door
Order adv tix for just $6 by emailing: TIX@CoffeeHouseGypsies.com
National Statistics in 2008 estimated that 182,460 new cases of invasive breast cancer occurs among women in the United States each year and that an estimated 40,480 of those will die from breast cancer. It was also estimated that 1,990 men are diagnosed and 450 die of breast cancer.
The Susan G. Komen For The Cure Miami/Ft Lauderdale Affiliate has a vision: A world without breast cancer. Their promise is to save lives and end breast cancer forever by empowering people, ensuring quality care for all, and energizing science to find the cures. They have supported every advance in breast cancer research over the past 25 years and have provided community grants for breast health education, screening and treatment.
On the night of Wednesday, October 13, 2010 at 9:00 PM the 2nd floor of Miami's oldest and most famous bar and live music venue, The Legendary Tobacco Road (located at 626 South Miami Avenue in Miami, FL 33130) live music lovers and supporters of this very important cause, breast cancer awareness, will gather for THE WEDDING: a two part live music event featuring the winners of nine Status QuO South Florida Live Music Awards, The Coffee House Gypsies, and Miami New Times Best New Band of 2009, Radioboxer.
"This is a very important cause for me, personally" said Coffee House Gypsies front-man Albert Damian Mata, executive producer and creative director of the event, "I had two breast cancer scares with my mom." The event will feature a guest speaker from The Susan G. Komen For The Cure Miami/Ft Lauderdale Affiliate. "This will be like a bit of Rocky Horror Picture Show, but with Miami original music in it." The first half of the show is Act One: The Wedding which features live music by The Coffee House Gypsies. Act Two: The Reception features live music by Radioboxer. "We are very excited, we've never done anything like this before, just putting it together has been so much fun."
Admission at the door is $10 and you must be 21 or older to attend. The Wedding begins promptly at 9:00 PM on the second floor of Miami's Tobacco Road on Wed, October 13th.
For more information contact:
Frank Perez at THPMedia@GMail.com