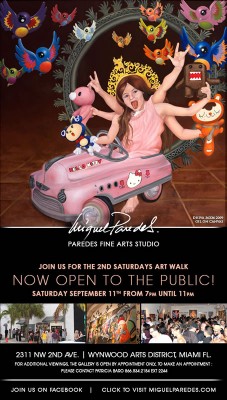 Paredes Fine Arts Studio is located at 2311 NW 2nd Ave. Miami, FL. 33127.
"Pulgha World" Mosaic Mural is located at 2399 NW 2nd Ave. Miami, FL. 33127.
For more information, please visit www.miguelparedes.com
Paredes Fine Arts Studio is now open! Art lovers who did not get the chance to attend the grand opening of Wynwood's newest gallery last month, will have the opportunity to check out Miguel Paredes' latest work this Saturday, September 11th during the bourgeoning neighborhood's monthly "2nd Saturdays Art Walk" 7 p.m. to 11 p.m. Miami's emerging pop and multi-media artist, sculptor and urban impressionist is currently exhibiting select pieces and sculptures from collections such as Boroughs, Digital Art, Pop Collages, Urban Dreams and Los Niños. Fans are also encouraged to make their way up the block and check out Paredes' recently unveiled 18 X 26 mosaic mural entitled "Pulgha World." Lastly, all guests will enjoy tunes by DJ Ari X complimentary Hispaniola Rum cocktails, Fiji Water, Arizona Iced Tea and Kind Healthy Snacks throughout the evening. This event is open to the public.
Paredes is currently in Los Angeles and will attend the grand opening of his latest exhibition "Urban Impressionism: A Miguel Paredes Retrospective" at the edgy Crewest Gallery located in Downtown LA's renowned gallery row. The new exhibit will open to the public on Thursday, September 9 and will close on Sunday, September 26, 2010. This marks the artist's fourth stop on his ongoing art tour leading up to Art Basel Miami Beach at the end of this year. The artist has shows scheduled in Seoul, KR; Boston, MA and New York, NY throughout the next few months.
*Please note the gallery is only open to the public during Wynwood's "2nd Saturdays Art Walk." To schedule a viewing appointment, please contact Patricia Baro at 305.534.2184 ext. 2244.